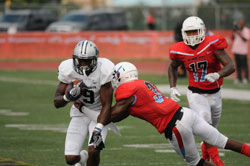 After going 5-6 a season ago in their second season in the Big South and finishing in third place in the conference with a 3-3 record, the Hawks opened up the 2016 campaign in a place they will have to get used to: on the road.
With construction of Monmouth Stadium ongoing behind the current Kessler Field, the blue and white will play eight of their 11 contests this season away from West Long Branch.
MU is coming off a 34-20 win against Delaware State of the Mid-Eastern Athletic Conference on Sept. 10, improving to 2-0 on the season. The Hawks never trailed in the contest.
The blue and white opened the scoring when sophomore quarterback Cody Williams completed a 13-yard touchdown pass to sophomore wide receiver Devin Phelps-his first career score-with 4:23 in the first quarter.
Junior kicker Matt White converted a 28-yard field goal and redshirt freshman quarterback Kenji Bahar, who was named the Crons Big South Freshman of the Week, scored his first career touchdown-an eight-yard run-giving the Hawks a 17-0 lead into halftime.
Another White field goal and the first of two touchdowns for senior running back Ed Royds increased the MU lead to 27-0, but Delaware State responded with 20 unanswered points, cutting the deficit to 27-20.
But Monmouth responded when Royds found the end zone for the second time, increasing the MU advantage to 34-20. Then senior corner back Kamau Dumas sealed the deal for the Hawks with a key fourth quarter interception with 5:48 remaining.
Redshirt sophomore wide receiver Reggie White Jr. set career highs in both receptions (11) and yards (129). Royds ran for 92 yards and two scores on 25 carries. Williams finished 15-25 for 127 yards and a touchdown, while Bahar went 5-7 for 93 yards and a rushing touchdown in his first colligate action. Monmouth outgained Delaware State 441-221 in terms of total yards.
A week earlier in the season opener, the Hawks traveled to Bethlehem, PA to take on the Lehigh Mountain Hawks of the Patriot League on Sept. 3 and won by a score of 23-21.
Senior running back Lavon Chaney racked up the yards, totaling for 193 on the day. Chaney ran for 119 yards and two touchdowns on 25 carries while adding a team high 74 yards receiving. Senior running back Zach Welch added 89 yards and a touchdown on 18 carries.
Monmouth totaled 215 yards rushing on the day, and Chaney gave all credit to his offensive line, a group that has three new starters this season: "They killed it up front," he said.
"My goal is to beat them with speed and Zach just runs through people. It just comes down to the o-line getting that initial push and getting up to that second level," Chaney added. "(Running backs) Coach (Sam) Dorsett always says that our job during the four minute drill is to get first downs."
Sophomore quarterback Cody Williams finished 16-23 for 198 yards. Chaney was his leading receiver in terms of yards, but senior wide receiver Darren Ambush was his primary target, recording seven catches for 66 yards. Ambush now has 1,027 career receiving yards and he became the 10th Monmouth player to eclipse the 1,000-yard mark.
One of the game's key plays was a fourth quarter interception by junior safety Marcus Leslie with Lehigh on a 14-3 run. This gave the Hawks possession at the Lehigh 22-yard line, setting up Chaney's second score of the day and putting the game out of reach.
"I was just reading the quarterback's eyes and made a play on the ball," Leslie said. "It felt good to get the first one, we needed the momentum swing and got it."
Monmouth's defense held Lehigh's offense, which averaged 451 yards per game a season ago, to just 239 total yards. MU outgained Lehigh, 233-40, in the first half thanks to a strong collective defensive effort.
"In the first half, you could just see the sheer dominance. We were imposing our will and everything we wanted to do, we were doing it with what seemed to be little effort," said senior linebacker Payton Minnich.
Minnich finished with seven stops on the day, while junior safety Mike Basile had nine.
Monmouth will once again be on the road this week when they travel to Kent, OH on Saturday to take on the Kent State Golden Flashes (0-2) of the Mid-American Conference. Kickoff from Dix Stadium will be at 3:30 p.m. and can be seen on ESPN3.
PHOTO COURTESY of Monmouth University Athletics