Two days after the presidential election, over 100 students, faculty, staff and administrators, gathered in a peaceful demonstration around the steps of Woodrow Wilson Hall on Friday, Nov. 11 at 11:30 a.m.
The purpose of the protest was to unite MU students and staff as well as local community members in a show of love and support for each other, especially those who are part of marginalized groups that, overwhelmingly, are experiencing fear and anxiety in the wake of the election," said Sydney Underhill, an organizer of the event and the president of the Gender Studies Club.
The protest was planned in a group message Thursday night by executive board members of the Muslim Student Association (MSA), the Gender Studies Club, the History and Anthropology Club, CommWorks, and Students Advocating Girls' Education (SAGE).
The attendees consisted of an array of individuals from different races, religions, and sexual orientations. Demonstrators were free to speak to the crowd from an available microphone at the top of the steps. Students and educators shared stories, read verses and poetry, and shared actions that could be taken to combat hate and bigotry. Around midday, the group walked through campus with signs, and vocally projected the statement "love not hate."
I was really impressed with the peaceful anti-hate protest. Students organized quickly and peacefully. I really appreciated how the organizers made clear that this was not an anti-Trump rally, but rather an anti-hate protest," said Nancy Mezey, a Professor and Associate Dean of the School of Humanities and Social Sciences. "The students who spoke at the rally were eloquent and passionate. And there was support from faculty members and administrators as well. I think fighting for something is often more productive than fighting against something, but sometimes both are necessary."
Unlike many protests that have unfolded on campuses and cities across the nation, the gathering held at the University was intended to be a non-partisan demonstration of love. "It served as a protest against hate and bigotry rather than the president-elect himself as a means to generate the positivity, love, and political empowerment is necessary to combat hate," said Underhill.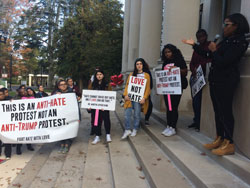 One student approached the microphone and shared a recent event involving her friend at a University party, days after the election results were announced. She said that in the course of a single night her friend was called a racial slur twice. "The 'n' word that ends with 'er,' not an 'a,'" said Leandra Dennis, a sophomore communication student. "That's why I came to this protest, because incidents like that are not okay. Trump's win should not validate racism, or hate on this campus."
According to an article by BBC published on Nov. 11, dozens of reports of alleged hate crimes have surfaced on social media in the wake of the election of Trump. Some examples include a Facebook post from a Muslim woman who said that her hijab was pulled off of her head while shopping at Walmart, and a picture of a swastika painted on a softball field dugout in Wellsville, NY with the words "Make America White Again" on Twitter.
The article also highlighted incidents reported against Trump supporters, including a video of an attack and robbery of a white man accused of being a Trump supporter, and a pro-Trump student being bullied at school.
In the UK, the Home Office recorded a 41 percent jump in racial and religious abuse in the month following the Brexit vote in June. A similar increase in hate crimes in the U.S. may seem evident by word of mouth, or through social media, however proof of this won't be available until next year. The US Federal Bureau of Investigation tracks hate crime statistics and releases an annual report, but the one covering this year won't come out until late 2017.
According to Underhill, it's important to share that some students were against the gathering. She said, "There were a few shows of opposition. Various students drove by repeatedly in pickup trucks with loud horns, megaphones, Trump flags, etc. Other students, in two separate groups, quietly stood on the outskirts of the gathering, one wearing a 'Make America Great Again' hat, in what seemed like an attempt to intimidate those gathered. One student hollered Trump's name from his dorm room, as we walked through the residential side. It's important to note that these were majority, if not all, white male students."
As a sociologist who has studied social inequalities since I was an undergraduate student in the 1980s, I try to understand the structural, cultural, and personal reasons for how this historical moment has arisen and why some groups of people are so terrified and others are so elated," said Mezey. "This whole election has to do with race, class, gender, sexual, national, and religious inequalities. The situation we are in now is complicated and nuanced. But we are lucky to be living in an intellectual community, surrounded by expert professors and inquisitive students, so we can collectively make sense of what is happening around us."
Golam Mathbor, a professor in the School of Social Work advised that students report any hate related incidents. He said, "Monmouth University has a zero tolerance policy for discriminatory practices on campus, so anything students feel are inappropriate happenings to them should bring it up to the relevant authorities immediately."
Across campus, students had varying reactions to the election results Tuesday night.
Some students were pleased by the win. "When the results started coming in I was excited and realized he was going to be the president of the United States. Watching CNN to me was funny because all the reporters were dreaded stating, 'Mr. Trump has taken this state.' Once Trump took Florida I knew it was over and I was just so happy and proud that Donald Trump now has a chance to change this country," said John Maurer a communication student.
However, Emily Ciavatta, a junior communications student was less enthused by the results. She said, "As a woman and member of the LGBTQ+ community, I am directly affected by the outcome of this election." That feeling encouraged Ciavatta to attend the demonstration Friday morning.
The protest was honestly such a humbling experience. Afterwards, I felt empowered, and much less alone than I had felt before. My biggest take away was that it's important to stand up for what's right, no matter how hard it may be," she added.
PHOTO COURTESY of Grianne McCormick