Walter Greason, Ph.D. of the History and Anthropology Department was appointed as Dean of the Honors School this semester. He hopes to use his lifetime of diverse experiences to develop the Honors School to create a more meaningful and impactful program.
Greason will be taking over for Interim Dean Stanley Blair, PhD, and is charged with the responsibility of overseeing and advancing Honors School classes and programs by harnessing resources like the University's faculty to push students to become leaders inside and outside the classroom.
"Honors students and faculty will feel an awesome sense of wonder that will be the envy of higher education worldwide," said Greason, who promises to dedicate his time to making sure students fully appreciate the opportunities they are given at Monmouth.
Greason began his educational journey at the Ranney School, a local liberal arts school in Tinton Falls, where he studied for thirteen years before selecting Villanova University for undergraduate study. Greason excelled in his studies at Villanova as a Presidential Scholar, a recipient of a full-tuition scholarship from the University, and eventually earned his degree in history.
Greason earned certifications in Philosophy, English, Peace and Justice Studies, and Africana Studies. He continued his education by attending Temple University, focusing his research on suburbanization and segregation in New Jersey. Greason is no stranger to academia—he has taught as a professor at Drexel University, Rowan University, and Ursinus College, and has had the privilege of presenting his extensive studies at institutions such as Columbia University, the University of Buffalo, and Purdue University.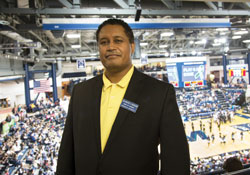 In regard to another one of his key priorities, Greason said, "We will work collaboratively to increase interdisciplinary work both inside and outside of the classroom, helping faculty produce unique new research that can shape scholarly discourse in powerful ways." He hopes to utilize Monmouth's global network to further the Honors School's research, development, and funding to make sharing new ideas easier for faculty members.
"We are one of the leading academic institutions in the most important geographic region on the planet. Our alumni make decisions every day that improve the lives of human beings in every part of the world," Greason explained. Another one of his initiatives is to make sure people know about the Monmouth name and attribute good things to the Honors program, a program he sees as a paradigm of "intellectual excellence."
For Greason, the position has an immense personal value as well. He explained that his family and friends have always placed a great emphasis on guiding motivated young leaders to succeed. "When the position became available, I felt it was a unique chance to share a lifetime of experience with a community of learners who shared my fundamental values…The chance to work every day with a team of academic all-stars whose dedication to providing a revolutionary sense of transformative learning to each student and faculty member is an absolute joy," he said.
"His background and experience will bring a new perspective to the Honors Schools. I know he has a lot of new ideas and is very excited to start implementing them," said Reenie Menditto, Director of Student Standards, Advising and Services for the Honors School.
"I'm excited to welcome Dr. Greason into his new role at Monmouth," said Dr. Laura J. Moriarty, Provost and Vice President for Academic Affairs, "When looking for the next leader of the Honors School, our search committee wanted to ensure that it selected someone who was both a superlative scholar and someone who could be at the forefront of developing new and exciting transformative experiences for our students."
Feedback from an interview with a panel of Honors students was factored into the final decision to hire him. Students like Landon Myers, a freshman majoring in political science, got to interact with candidates for the position, and provide their input for a truly unique opportunity to help shape the future of the University's Honors School. Myers and his colleagues met during the last days of the previous semester to hear from faculty that wanted to leave their mark on the program.
"Dr. Greason has a lot of great ideas that would further the Honors School," said Myers, "It's easy to tell he wants to move the school in the best direction for the students. I'm excited to see what he is able to do in this new position.
"It is a fantastic opportunity and a culmination of decades of work. I have never been more determined to share my gifts with the Monmouth University family," said Greason.
PHOTO COURTESY of Walter Greason
PHOTO COURTESY of Tina Collela