Phi Eta Sigma's Annual Induction Ceremony
---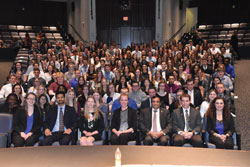 The University's Phi Eta Sigma chapter held it's annual induction ceremony of 196 new members in Pollak Theater on Friday, Mar. 24. Phi Eta Sigma, the nation's oldest and largest honor society for first-year college and university students, encourages and rewards academic excellence among freshmen in institutions of higher learning, according to their site.
The ceremony began at 7 p.m. with opening remarks from Society President Emily Townsend, a senior business administration student. The audience consisted of inductees, their relatives, faculty, and more, who Townsend thanked for being there. She went on to introduce Phi Eta Sigma's faculty advisor Dr. Golam Mathbor.
"You are among the select few students who have met the requirements necessary for induction into Phi Eta Sigma," said Mathbor. "Once you have been inducted, you are a member for life."
Juliana Illiano, a sophomore elementary education and history student, then guided the audience through the history of the Phi Eta Sigma chapter. She began with its founding at the University of Illinois in 1923 as a males only scholarship chapter, to it's evolution to what it is today.
"We stress not only the importance of scholastic excellence, but the importance of three elements required for you to complete development as individuals: an unimpeachable character, a well-cared for body, and a well-disciplined mind," said Illiano.
Speeches emphasizing the characteristics of the chapter were then presented by three members of the board: Treasurer Mark Marrone, a sophomore business administration student; Secretary Sachin Parikh, a junior biology student; and Vice President Shannon Marren, a junior biology student.
"A vigorous and disciplined mind is one of the first requisites of success," said Marrone. "Thorough mental training is required to accomplish this."
Parikh followed Marrone er tends to strengthen the body helps to develop the mind."
Marren concluded with an emphasis on character. "Character is the foundation of responsibility and success," said Marren. "It is the basic link between respect for the body and discipline of the mind."
Following the collective speech by members of the society's executive board, Townsend took the microphone once again and asked inductees to stand and answer, "I will" if they accepted the society's guidelines. All of the student inductees rose up from their seats and agreed.
Townsend then introduced the ceremony's guest speaker, Dr. Kathryn Kloby, Vice Provost for Transformative Learning. Kloby spoke excitedly about the importance of being a member of the Phi Eta Sigma Society, and how remarkable their achievements are considering the difficult transition from high school to college.
"Think about what you had to transition to since New Student Orientation," said Kloby addressing students. "Think about the personal growth and change you've gone through. That is a tremendous amount of growth."
Kloby complimented the freshman on their ability to adapt to a new life at Monmouth while also succeeding in their academics. "You all are mastering academics," said Kloby. "And soaring like hawks should be."
Kloby concluded her speech by stressing to inductees that Monmouth faculty is at their disposal if they ever run into issues, and how all faculty members are pushing for them to succeed. "Not to be Debbie Downer, you've achieved a lot, but now you have to keep it going," said Kloby. "There will be highs and lows in your academic career. But if you need help, you have peers and administration that are here for you."
After Kloby's speech, Townsend officially welcomed the students into Phi Eta Sigma. "I charge you as new members of Phi Eta Sigma to be ever mindful of the three qualities," said Townsend. "As you accept and wear this key, may you exemplify the characteristics for which it stands: constructive thinking, clean living, and a character above reproach."
All new members in attendance then came forward and received keys and membership certificates. Students gave Townsend a card with their name, and she read the name aloud before the student received the items.
Once every student sat down again, Mathbor addressed the attendees with closing remarks. He thanked Kloby for her speech, and presented her with a plaque of honor for all she has done for the University and its students. "I'm honored and proud to have hired her (Kloby) as a part of the University's Political Science department years ago," said Mathbor. "She is a distinguished scholar and great leader."
Mathbor also awarded a plaque of appreciation to Townsend for her work as President, and thanked First Year Advising's Lisa Henry for her assistance in putting the ceremony together.
Mathbor ended his remarks by stating how he was looking forward to working with the new inductees in the future.
Following the ceremony, students and relatives were encouraged to gather in the lobby of Pollak for light desserts and drinks. Iliano was pleased and relieved with how the ceremony was conducted. "Each year a great group of students join the Phi Eta Sigma chapter," she said.
"This is my first ceremony as an officer, and I have learned a lot about the Monmouth University chapter. I look forward to welcoming the first-year students and working with the new officers in the future," Iliano added.
PHOTO COURTESY of Shannon Marren