Kenneth Womack, Ph.D., Dean of the Wayne D. McMurray School of Humanities and Social Sciences, was honored with the Dr. Harold and Dorothy Seymour Medal from the Society of American Baseball Research (SABR) for his book "The Eighth Wonder of the World: The Life of Houston's Iconic Astrodome," on Mar. 4.
Womack co-authored the book with Robert C. Trumpbour, Ph.D., an associate professor of communications at Pennsylvania State University at Altoona.
SABR awards the medal to "the best book of baseball history or biography published during the previous calendar year" and must be, "the product of original research or analysis," according to the SABR website. The website also states that the winning book must "significantly advance our knowledge of baseball and shall be characterized by understanding, factual accuracy, profound insight and distinguished writing."
Womack was born and raised in Houston, TX and mentioned that he "basically grew up" in the Astrodome. His grandfather, Kenneth Zimmerman, was the structural engineer of the building and he invented the knuckle column and the star column. These are the two innovations, Womack said, that are holding up the building today.
"The knuckle column is a four-foot piece of steel and it was designed to come out at the top every five degrees and the roof would essentially rest on it," Womack said as he demonstrated with a replica of the stadium. "[My grandfather] called it the knuckle column because vertically, the knuckle is stiff, but horizontally it can move. There's a lot of pressure on the dome and it is always moving very slightly. If there was a big wind storm you could see it, but for the most part nobody ever knows."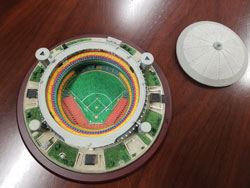 "On the side, he had what he called the star column," Womack added as he continued to demonstrate with the replica. "This connected to the knuckle column to give it a vertical hold on that horizontal force. Buried 40 feet or so underground is a tie that is in the bedrock. So you have the knuckle connected through steel and rods connecting down to the star column, which is connected to the underground piece, and that's how it's all held in place."
Womack first met Trumpbour in 2002, when he hired him to work at Penn State. He mentioned they had talked about writing a book for a while and when Trumpbour suggested that they write about his grandfather, it took off from there.
"We decided that we wanted the story to be a page turner because it's too interesting not to," Womack said. "I did bring in a lot of storytelling. Even though Bob wrote his good 50 percent of it, I went and smoothed it into one readable story. I wrote the chapters on the building of the dome because I have a working knowledge of how to talk about construction and I'm pretty good at injecting drama into stories, and this was a pretty dramatic story."
Trumpbour grew up in the New York metropolitan area and developed an interest in stadiums when he went to Yankee Stadium and Shea Stadium, which was relatively new at the time, as a kid. He was fascinated in the architectural differences between the two facilities. When it came time for him to write his dissertation for his Ph.D., he decided that this was a topic that interested him enough where he could spend hours researching it. That led him to write two books, and he was very excited when writing this one.
"What made the Astrodome unique is that it was built with luxury in mind," said Trumpbour, who has been a SABR member since 2000. "They brought in theatre-style padded seats and air-conditioning units that were good enough to make sure that the climate inside was very comfortable. It was designed with skyboxes and with different themed restaurants in it, and that was way ahead of its time. If you go back to that era, you had standard concession stands and you had people who walked around the stadium with hot dogs and drinks. Those are all changes that the Astrodome really pushed to the forefront."
Receiving the award from SABR meant a great deal to Womack and Trumpbour.
"Any time you win a writing award, it's a validation that you told the story well enough that it rose to the top," Womack said. "It's enormous to see that your peers have seen something you have done and give value to that."
"It's a nice validation because I know me and Dr. Womack worked very, very hard to put this together," Trumpbour said. "We wanted to chronicle what we felt was a very compelling story. This is a nice validation that this story connects with people well beyond Houston – that it's a story that has wider implications."
PHOTO COURTESY of Kenneth Womack