Students Who Abused Meal Swipes Face Punishments Under the University Code of Conduct
---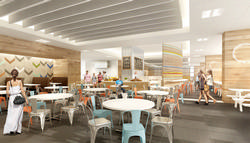 At least 24 students have been found fraudulently using meal plans, leading to disciplinary action against those involved.
According to Mary Anne Nagy, Vice President for Student Life and Leadership Engagement, students have been making copies of bar codes and attaching them to their own identification cards. The forgeries have cost Gourmet Dining Services approximately $30,000, according to an anonymous source with knowledge of the situation.
Nagy declined to mention specific students, demographics, or details, as the students who have been caught abusing their meal plans are still being sentenced under the University's Code of Conduct. However, she did explain the general situation.
"At some point during the spring semester Gourmet Dining had a situation where a student came over to the dining hall and the cashier noticed something off about the ID0 card," Nagy said, explaining how the situation was first discovered. "What they found was that, in essence, someone had made a copy of the bar code and taken that bar code."
"The process is still ongoing in that the investigation itself is complete, the students have been charged under the Code of Conduct, and they're in various states through that process," Nagy said. "They've had their meetings, decisions are now being made."
Gourmet Dining declined to comment on the situation, with the Resident District Manager Chris Ryerson stating that he was not able to discuss the situation or any financial impact that could be had.
According to Nagy, the University confiscated the identification card of the student and when they discovered the falsified bar code, they began to investigate the situation in more detail. Nagy explained that those who were allowing their meal plans to be abused had carte blanche, or unlimited, meal plans (other meal plans allow for 225, 195, or 105 swipes throughout the semester).
While the plan is unlimited, it can be estimated that the average student would swipe into the dining hall approximately 300 times per semester, according to Nagy, and Gourmet considered anything over 400 swipes to be unusual.
"[Gourmet Dining] looked at students' usage of meal plans, because we know how many times you swipe your card, and they were able to identify some number of students where it seemed like the swipes that they used in whatever period of time that was seemed excessive in relation to what one would expect," she said. "They turned that information over to us and the University police."
"One student, in theory, could buy a plan, and five students could eat off that plan," she explained. "Gourmet is only getting paid for that one student, yet five people are eating off of it. That leads to an equity issue. When meals get utilized that way, the long-term effect is that costs go up and all students pay for the students who aren't paying anything, and that is not fair."
The meal plan costs vary by the number of allotted meals. The most expensive is the carte blanche plan, which allows for unlimited meals in the dining hall as well as $50 in "declining dollars" which can be used in various on-campus eateries, is $3,075 per semester. The 225 meal plan, which averages to about 16 meals per week and includes $90 in declining dollars, is $2,796 per semester. The 195 meal plan, which averages out to about 13 meals per week and includes $95 in declining dollars, is $2,884 per semester; and the 105 meal plan, which averages out to about 7 meals per week and includes $170 in declining dollars, is $2,734 per semester.
"I understand that taking someone's barcode and using that as your own is wrong, but if they're letting their friend to take their card to get food, that shouldn't be a problem," said an anonymous student who did not want to be named. "We're the ones paying for the cards, we should be able to use them however we want."
Students may face punishments including a letter of reprimand, disciplinary probation, paying restitution to Gourmet Dining, or paying fines to the University. One student also reported having to speak to Monmouth University police officers. Nagy said that it would be "inappropriate" to expel a student found guilty from an on-campus residence, although that is a potential punishment according to the Code of Conduct. The fraudulent swiping does meet the stature of expulsion from the University, but Nagy called such a result "unlikely under the circumstances."
While Nagy declined to confirm or deny the situation, several other students have said that student athletes seem to have been responsible for many of the fraudulent identification cards and that the athletes have faced additional punishments such as team suspensions, potential loss of scholarships, and required community services and letters of apology.
"The situation is being handled internally," said Greg Viscomi, Associate Athletics Director for the University who responded to inquiries sent to Athletics Director Marilyn McNeil, Ph.D., and several team coaches. "It is our policy not to comment on discipline matters."
Several student athletes were asked for their opinion on the situation; all declined to comment.
Nagy stressed that while a meal plan may be unlimited, it is still non-transferrable and any sharing of a meal plan is considered abuse.
Nagy also said that the situation had been found occuring at the dining hall, the Rebecca Stafford Student Center food court, and other dining spots around campus. She said that Gourmet Dining is now much more careful with how they look at identification cards, and may use new technology to prevent these situations in the future.
"They are checking to make sure your name and your picture match; they are checking to see that the barcode has not been altered in any manner," said Nagy, who admitted that this process might lead to slightly longer lines at the dining hall and other locations. "We are also looking at other things that we may do, including changes that we may make to the ID card."
Currently, if a student is found using a fraudulent identification card, their card will be confiscated and the Monmouth University Police Department (MUPD) will be notified.
IMAGE TAKEN from monmouth.edu