Students and Faculty Participate in Marches in Washington, D.C., New York City, and New Jersey
---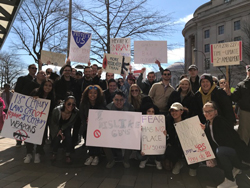 Dozens of University students and several faculty members participated in March for Our Lives protests on March 24.
Faculty members organized trips to the Washington, D.C. and New York City marches, according to Johanna Foster, Ph.D., Director of the Sociology Program and an associate professor. Students also participated in local marches in Freehold and Asbury Park, joining some faculty members.
The March for Our Lives peaceful protests were designed to bring attention to flaws in United States gun legislation.
Foster was the faculty advisor of the march in New York City, but she personally marched in the Washington, D.C. demonstration. "I attended because I fear for the lives of my children, not only as students, but as kids of color who could be gunned down in just about any public space in this nation because powerful white men and their allies care more about masculinity and money then they do the lives of people," said Foster. "Not only do I constantly worry about the safety of my children, but I worry about the safety of my students, as well as the safety of my colleagues in the classrooms, and myself."
According to Foster, 20 students participated in the New York trip, which was led by Scott Jeffrey, Ph.D., an associate professor of management and decision sciences.
Joseph Patten, Ph.D., led the group that went to Washington, D.C., bringing 28 members of the Political Science Club, as well as meeting up with five political science students doing the Washington semester program.
"Political science is a fun and important field because it tries to understand current political trends and to predict the future political climate of the country, and you can best do this by being where the action is, rather than watching events unfold on television," said Patten. "The Political Science Club wanted to go to D.C. because that was the epicenter of what might turn into a political movement that can have a big impact on the 2018 Congressional elections."
"As an advocate for having no guns in schools and wanting to stop the prevalence of mass shootings, I felt it was necessary to attend the march not only to fight for gun reform, but to stand in solidarity with those who have lost loved ones due to gun violence or know of others who have," said Taffy Lashley, a sophomore communication student who participated in the New York City march.
"I wanted to participate in this march because I wanted to use the privilege that I have as an able-bodied individual in order to stand up for those who do not have the ability to do so," said Jesse Lee, a sophomore social work student who attended the New York City march. "As young people, we have the power to influence the powers that be, therefore I felt compelled to speak my mind."
According to CBS News, the crowd at the Washington, D.C. march was estimated to be around 200,000 people, and the New York City march had another 200,000 demonstrators, according to The Washington Post.
Smaller, local marches also took place around the country and were also attended by members of the University campus community. In total, there were approximately 20 peaceful protests in New Jersey alone. 2,000 people marched in Red Bank, according to the Asbury Park Press; numbers for marches in Freehold and Asbury Park were not available.
"I chose to march in Asbury Park, as there has been gun violence in the neighborhood, and being so close to campus, I felt a strong need to support high school students in this community," said Sanjana Ragudaran, Ph.D., a specialist professor of social work who attended a local march.
Ragudaran encouraged students to participate as well, and was met by approximately 15 of her students and some of their families; she said that several social work faculty members also participated, including associate professors Carolyn Bradley, Ph.D. and Michelle Scott, Ph.D., assistant professors Ralph Cuseglio and Cory Cummings, Ph.D., and lecturer Christa Hogan.
"As a social work educator this is a learning experience for all of us," Ragudaran said. "Most importantly, this brings the classroom to life It is an opportunity for us to spend time with students outside of the classroom. The discussions we had with each other and their families around current issues is priceless. By continuing this discussion in the classroom the following week, I am hoping they remain inspired and continue to be engaged in various ways."
"My past experience as a social worker in the NJ public schools motivated me to want to act to try to make certain that our schools are a safe place for children, faculty, and staff," said Bradley. "I am concerned at the proposed arming of teachers as a means of hanging gun threats in schools. On some level, this amounts to placing responsibility for change on potential victims. Such a proposal is not a viable solution as it creates a piecemeal response to a national problem."
"It is absolutely essential for students to attend these events, as they are the ones directly affected, and we know change does not happen until those that are directly impacted take a stand, tell their stories, demand change, and then hold leaders accountable for it if nothing happens," said Foster. "In this case, I think the march illustrated that students all across the country have a keen understanding of this, including the key step to vote out leaders that are not going to meet their demands."
"It was an incredible experience being surrounded by so many others who were as passionate about change as I am," said Lashley. "I know this is the start of something hugely positive in this country."
"I especially liked that kids dominated the rally in that only kids made speeches. They were powerful because most of them talked about how they lost a brother or sister to gun violence. It broke my heart to hear all of the tragic stories," Patten said. "Regardless of the issue or the political stripe of the student, there is nothing more inspiring than seeing young people getting involved in politics. Young people have the energy and charisma to effect positive change."
"I felt honored to attend this event," added Lee. "Since this was my first protest, I wanted to make sure that I made the most of my time by marching amongst my friends and other like-minded people. Ironically enough, I had a positive experience at the march, and I felt that way because I could sense the urgency, unity, and passion that my fellow protesters felt as we were marching down the streets of New York City. I was happy to see that there were good people who still exist in this world."
PHOTO COURTESY of Joseph Patten