Bright, vibrant, unique and exciting are all of the words used to describe the style that Mike Quon paints, draws and creates.
The art exhibit, The Art of a Designer, that featured the works of Quon held its closing reception last Sunday, March 10.
The artist, Mike Quon, has been around the influence of art since a very early age.
Quon's father was an animator and director at Walt Disney, who worked on a number of famous animated movies.
Quon said, "My environment was filled with magic markers, pastels, watercolor paints and more. As a master painter, [my father] was a big influence on me. I remember drawing from around the age of five or six."
Born and raised in California, Quon attended UCLA where he graduated with a BFA, and furthered his education at the Art Center College in Los Angeles.
After graduating, Quon started a career as an art director at J. Walter Thompson and Young and Rubicam. Now, Quon lives in the New York City area.
His pieces have been in galleries and museums all around the world including Los Angeles, Paris, and everywhere in between.
His work is also in the Library of Congress, The New York Times office, the U.S. Air Force Art Collection and The New York Historical Society as part of their permanent collections.
Because of the bright and fun style of his work, Quon's art has been used in campaigns and for logos, even promoting events like the Summer Olympics.
One person attending the exhibit called his work "vibrant and interesting," and another said it's "easy to look at and fun."
Atendees were also noting how intricate the artist's paintings are up close.
Most of Quon's work is made with acrylic paints that have a number of different strokes and techniques throughout the piece.
There are splatters, lines and texture throughout these works and they appear to be 3D with just the use of acrylic paint, like in Times Square Rush Hour and Big Fan.
Others of his works are collages and use more than one medium to create.
One example is Surfin' Safari, which has different papers cut out and placed on top of each other to create a scene of a car on a "road trip."
There is a piece of a large map behind the car that gives the painting a traveling feel.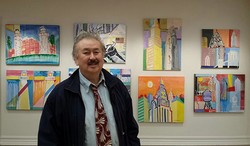 Another similar example is Sail Out to Sea, which is a piece of a sailboat, with the sails made out of pieces of a map layered on paper and with paint to create a textured work.
Furthermore, a very unique example is Flag Pop Art, which was made by painting on the two opened pages of a book to create a 3D look and a unique medium to work with.
On a table as part of the exhibit, there was a layout of some models that Quon had made, as opposed to the 3D look on a page, these were actual 3D works.
There were three cameras displayed and one skyscraper, all neutral colors with splatters of bright colors on them.
We also got a look at Quon's earlier work, because on display were small doodles Quon had made dating back through the 1990s.
These give a good representation of Quon's work throughout the years and throughout his career.
The general feel of all of his work is happy, bright and created to make people feel good
This is why a lot of Quon's work is used for campaigns and logos. All of the Quon's art catches people's attention.
This style is heavily influenced by his father's animation for children's movies; especially ones made by Disney that are full of bright colors and bold designs.
It's unique for an artist to use so many different styles, canvases and mediums to create a variety of textures and styles, which is why Quon stands out.
A lot of the artist's inspiration comes from New York City, his home, including the skyscrapers and the Statue of Liberty.
Typewriters are also a huge theme in his pieces along with vehicles.
All of these real-life things are depicted on a large-scale using lots of colors and textures.
Regarding the variety throughout his works, Quon said, "I love working in a spontaneous, loose and bold fashion, with lots of bright colors. I especially like the freedom that painting with watercolors gives me."
The artist concluded with, "I enjoy working in black and white as well. I sketch and draw daily, and for me, work has got to be fun."
It's clear how much Quon loves what he does, which is heavily translated in the bold strokes of his work and the way people positively to it.
The Art of a Designer is on display through March 15.
PHOTO TAKEN from tworivertimes.com
PHOTO TAKEN by Katherine R