Former Monmouth Hawk Brad Brach ('08) got to live out his childhood dream this summer when the veteran major league pitcher and lifelong New York Mets fan was signed by the Mets to join their exciting chase for a playoff spot.
Eleven years ago, the Freehold native was the star of the Monmouth Hawks pitching staff. Fast forward to the 2019 Major League Baseball (MLB) season, he was released by the Chicago Cubs and picked up by his childhood favorite team, the New York Mets.
He finished the 2019 baseball season as a key bullpen piece for the team, who played meaningful baseball in September for the first time in three years, and were in contention for a National League Wild Card spot until the final week of the season. He closed out his season on September 28 by holding the Atlanta Braves scoreless in one inning of relief.
"That week the Mets showed interest was definitely a bag of emotions," said Brach. "When the Mets began to show interest in me, I quickly became extremely excited. I grew up a huge Mets fan, and to see that they really wanted me to help them was an amazing feeling. I had played at Citi Field a bunch but getting to put on the blue pinstripe uniforms with 'Mets' across the chest, gave me chills and was one of my best baseball moments."
The 2019 season marks Brach's ninth in the Major Leagues. He has played for the San Diego Padres, Baltimore Orioles, Atlanta Braves, Chicago Cubs and now the New York Mets.
"I really honed in on working hard and taking the extra step to be able to take a shot at playing professionally," he said.
Brach attributes his experiences at Monmouth to setting the foundation for everything that allowed him to succeed at the highest level. The University played an integral part in Brach's road to the major leagues, and his time as a Hawk is something he still thinks and talks about frequently.
Dean Ehehalt, head coach of the Monmouth Hawks, said, "We knew he was special when we recruited him, his ability to win, he was never afraid of anything. We gave him a big game the first weekend of his freshman year because we thought it was our best chance to win and it took off after that."
Brach said, "Coach Ehehalt just kind of gave me confidence to know I was good enough to pitch at any level. Whether it was starting me my freshman year at the University of Central Florida on the first weekend, or starting me against Arizona State in the [NCAA] regional in 2007, or setting me up to play in a college summer league after both my sophomore and junior seasons, he always let me know that if I was willing to put in the work, I could accomplish whatever I wanted."
A starting pitcher for the Monmouth Hawks from 2005 to 2008, Brach still holds many of Monmouth's pitching records. He is the Hawks' all-time leader in strikeouts, wins and innings pitched, while his career 3.16 ERA (Earned Runs Average) is second-lowest in program history.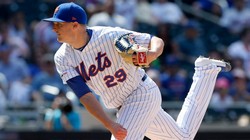 In Brach's sophomore season, he posted a 2.44 ERA, which is seventh all-time, and the following year, continued his success, with a 2.89 ERA, tied for 11th on the list. He also has the fourth most complete games for the Hawks.
In addition to his individual success, Brach anchored one of the best pitching staffs the school has ever seen. He was an integral cog for the two winningest teams in program history; in 2007, the Hawks won 37 games, and in 2008, followed with a 36 win season. During Brach's freshman year, the Hawks' collective 3.34 ERA ranked eighth in the National Collegiate Athletic Association (NCAA).
Brach is one of the most decorated players in Monmouth Athletics history and was inducted into the MU Athletics Hall of Fame in 2016.
"To this day and maybe ever, it will be the highest honor I receive," said Brach. "To be recognized by the athletic program like that was extremely humbling and an amazing experience. It's one thing to compete at the Division I level at a school that you loved, but to be inducted into a 'Hall of Fame' at that school among the amazing talents that this school has produced was truly amazing and something I will cherish forever."
Brach met his singer-songwriter wife, Jenae, in 2011, when he was playing for the Tucson Padres, the Triple-A affiliate of the Padres. The pair bonded over the commonality of performing in front of large crowds.
"We connected instantly over our passion and drive for our careers and could relate on so many levels," said Jenae Brach. "Both being in the entertainment industry made it easy for us to share our goals, fears, and dreams."
She continued, "When he was inducted into the Hall of Fame, I was so happy for him because he was so honored and so excited. I have always known how important that season of life was for Brad, and the friendships and relationships he developed there are still such huge parts of our lives today."
To make the occasion even more special, Mrs. Brach sang the national anthem. "I am always so grateful when I am asked to be a part of big moments alongside him. It always means a lot to both of us," she said.
Just days after graduation, Brach was drafted in the 42nd round of the 2008 Major League Baseball Draft with the 1,275th overall pick by the San Diego Padres. He made his debut with the team in 2011, making him just the third Monmouth University student to ever play Major League Baseball.
Coach Ehehalt notes that because Brach did not go high in the draft, it probably helped him, because it allowed him to transition from a starting pitcher to a reliever.
"In college, his style of pitching was aggressive, always attacking hitters. His velocity was upper 80s, and he had the ability to locate his pitches. He had the ability to work fast, pitch inside, had great control, and was a tremendous competitor," he said. "He was identified as a winner early in life, and it's carried over into his pro career. He is able to just be on the attack all the time because he only pitched one inning at a time, and his career evolved from that."
Brach is currently the only Monmouth Hawk playing in the Major Leagues. The 6'6, 215 lb. righty is also the only Hawk to ever be selected to the Major League Baseball All-Star Game, which occurred in 2016 when Brach was with the Baltimore Orioles. An autographed jersey from Brach's 2016 All-Star Game appearance sits in Coach Ehehalt's office. It's clear just how close the pair is and how much of an impact Brach had on his former coach and the Monmouth baseball program.
"I'm happy for him and proud of him. There are not enough positive accolades you can discuss with Brad's situation. I'm happy for his family. His dad always told me that he would pitch in the major leagues. He chased this every day since he was a young kid and gets to play for his favorite team when he was a kid now, which is a great thing," Coach Ehehalt said.
Brach's love for Monmouth University is reciprocated by those who remember his days as a student.
Matt Harmon, New York Red Bulls Radio Broadcaster and Specialist Professor of Communication, said, "I think it's great that any Monmouth athlete makes it to that level. Knowing Brad as a player and student here, he's carved out a very impressive career and played in big spots. It says a lot about him and the athletic program."
Julian Garcia, Sports Editor at the New York Daily News and Adjunct Professor of Journalism, said, "I think it's great to see. And I admit that every time Brad Brach got into a Mets game this season, I said out loud to my colleagues 'Monmouth U!' It's always a proud moment to see someone from Monmouth succeed in sports, just as it is exciting to see someone succeed in any other line of work. Sports just brings a higher level of visibility that is important to raising awareness. For a school like Monmouth, having a successful athlete in the pros is exciting and fun and important for both school pride and promotion."
"Brad Brach was one of [Monmouth University's] finest student-athletes," said Dr. Marilyn McNeil, Vice President/Director of Athletics. She credits Brach's work ethic, responsibility, and passion for his sport as the cornerstones for his success. "He was and is a wonderful role model and one we are so proud to call our own. Right now, every one of us are Mets fans!"
"This was truly a dream come true," said Brach. "Not just making the Major Leagues, but getting to become a Met was something I had been dreaming about for as long as I can remember. For it to become a reality is something that's hard to describe, and something I will remember forever."
PHOTO COURTESY of The Mets
PHOTO COURTESY of Jim McIsaac