President Patrick F. Leahy Ed.D., announced all in-person and hybrid courses, with the exception of in-person clinical and field-based experiences, will move to online delivery for the remainder of the fall semester, including the final exam period, via email on Monday, Nov. 2.
This decision is intended to reduce activity on campus, "particularly as residential students will be given the option to stay home after the break, thereby helping to prevent future spread of the virus among our campus community," Leahy wrote.
"Thanks to the collective efforts of the university community, we have experienced a notable decrease in cases at Monmouth over the past month," Leahy wrote. "However, we simultaneously recognize the rise in cases elsewhere in New Jersey and throughout the country."
Social interactions on campus will continue to be limited to five or fewer people. Masks must be worn and six feet or more of social distance must be maintained," Leahy wrote, and residential hall visitation restrictions will remain in effect.
The University's move to remote instruction was initially sparked by a "super-spreader" off-campus event resulting in more than 100 positive COVID-19 cases and required an additional 200 students to quarantine. Leahy acknowledged the series of modifications to academic delivery this fall, writing his appreciation of the student's "…flexibility in helping to preserve the health and safety of our community."
The "pass/fail" grading policy has been extended through the fall 2020 semester, whereby students may opt to receive a letter or pass/fail grade for each course. When grading concludes, the registrar will provide additional information to students on grading and a link to the pass/fail e-form.
All residential halls will remain open to students who wish to return to campus after Thanksgiving, Leahy wrote. Any on-campus residential student who chooses to stay home after Thanksgiving will need to inform the University of their decision by Friday, Nov. 13. The Office of Residential Life will then follow-up by email with detailed instructions for this process. Any student who chooses to leave university housing will receive prorated refunds or credits on unused room contracts, meal plans, and parking fees. All refunds and credits will be prorated for the period beginning Monday, Nov. 30, 2020 through the end of the semester.
Marina Vujnovic, Ph.D., an Associate Professor of Journalism in the Department of Communication and Chair of the Faculty Council, says the decision to move online does not come as a surprise to the faculty.
"President [Leahy's] decision is along the lines of what other universities are doing and we've expected that given the COVID numbers in the state, we will be moving completely online after Thanksgiving," Vujnovic said. "Faculty now expect possible sudden changes to our modes of delivery, so I believe that transition will be smoother than in the Spring."
Vujnovic's general sense is that faculty do support the decision, she explained. "There is a growing concern about the incoming colder days and everyone agrees that we should do all that we can to help curb the spread of coronavirus."
Conor Guzinski, a senior computer science student, finds the transition online to be frustrating, but understandable. "Of course, it's annoying we pay for off-campus housing so we can be close to the University but we just sit in our bedrooms anyways, but I'm glad [Leahy] is ending the cat-and-mouse game of sending us back and forth and just sticking with a firm decision."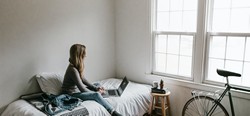 Leahy plans to "be in touch again soon" with a message detailing plans for the spring semester.
Katherine Fernandez, a senior music industry student, considers the transition online to be inconvenient, but a necessary, precaution.
"I'm a music industry major, so [transitioning online will] be a little difficult, especially when it comes to classes that have enough hands-on learning to be a hybrid class but not enough to remain in-person when classes switch to online, like classes we have in the recording studio," Fernandez said.
"I can only speak about my students," Vujnovic said in regards to their ability to successfully transition online. "I teach online and although some students needed additional help, most are doing really well. Taking online classes can be a challenge but I think everyone, faculty, and students, are getting a better grasp of how online education works. I am certain that with some hard work and mutual understanding, we will finish this semester successfully."
"The Health Center will remain open during this time," Leahy wrote. The additional testing site in the OceanFirst Bank Center Lobby will also be open and providing free COVID-19 testing Monday through Friday from 10 a.m. to 4 p.m.
"Upon extensive consultation with our public health officials and lengthy discussion with our key constituencies, we are confident that the decision to move academic programming primarily online, while continuing to offer on-campus residential and student services, will be the best move forward for our university community this fall," Leahy wrote.
PHOTO TAKEN by Jessica Pak
IMAGE TAKEN from Pexels.com