Richard Veit, Ph.D., Professor of Anthropology and Interim Dean of the School of Humanities and Social Sciences, appeared on Preservation New Jersey's (PNJ) "Q&A with PNJ" guest speaker series, via Zoom on Thursday, Oct. 29.
"Q&A with PNJ" is a project that seeks to highlight voices across New Jersey's historic preservation community and bring their knowledge and expertise on a wide variety of historic preservation topics to the public, according to Melissa Ziobro, a Specialist Professor of Public History and a member of Preservation New Jersey's Education Committee.
Titled "Dead Men Do Tell Tales: Interpreting and Preserving Historic Cemeteries," Veit's presentation involved a brief history on New Jersey's cemeteries and colonial-era burial locations up to the 20th century, as well as preservation issues of the modern day.
He has published two books on the topic, titled The Archaeology of Cemeteries and Gravemarkers, and New Jersey Cemeteries and Tombstones: History in the Landscape. Veit has also published two scholarly articles, titled "Historical Archaeology of Religious Sites and Cemeteries," and "Taken for Granite: Terracotta Grave markers from New Jersey and New York."
Veit began his presentation by showing "one of [New Jersey's] oldest surviving markers in stone," located in the St. James Episcopal Cemetery in Edison. Eventually restored by a Boy Scouts project, the tombstone was originally created in the 1690's. "This speaks to the earliest period of European settlement in the state," Veit said.
Next, Veit displayed an image of a gravestone with a skull and crossbones etched into its side, a small hourglass and flames surrounded by ominous birds. "Some of our earliest markers in Northern New Jersey have these incredible mortality images on them, and thats because… [that area was] settled in large part by New Englanders who brought down this puritan tradition of gravestone carving," Veit said.
The gravestone speaks to the puritan mindset that only a select number of people were to be admitted into heaven, Veit explained.
By the middle of the 1700s, new designs began to emerge in sandstone markers carved from stone quarries in Newark or Belleville, Veit explained. The particular marker featured in Veit's presentation showed a cherub, a child-like angelic figure, carved into an hourglass gravestone shape.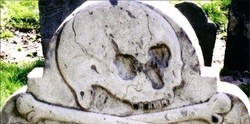 "My good colleague and friend Adam Heinrich has argued we see cherubs [on this period of gravestones] because of changing styles in art; a move to the baroque style," Veit said. "Anthropologist Jim Dietz long ago argued we're seeing the great awakening, a new religious movement where you can be saved through faith. You would have an angel on top of the stone rather than death."
Different parts of New Jersey have varying gravestone styles, according to Veit, who displayed a Bergen County gravestone in the Dutch language. In Northwestern New Jersey, you begin to see more German language markers. "These simple marble slabs are really characteristic of Moravian cemeteries," Veit said. "The Moravians felt that all people are equal in the eyes of God, so you don't need a big, fancy stone."
New England imported slate gravestones appear in coastal New Jersey, such as Monmouth County and parts of Middlesex County, and are often very well preserved. Slate is not badly affected by acid rain, or by the shelling and spalling that hurts sandstone, Veit said.
Veit went on to show a Philadelphia style stone from southern New Jersey, badly affected by acid rain and difficult to read. Upon further analysis, the marble marker displays a Scotish flag and an English flag.
"This [grave marker] is for a revolutionary war British soldier," Veit explained. "Captain William Leslie of the 17th British Regiment, sometimes called the Tigers of Princeton, who died at the battle of Princeton."
Captain Leslie was badly wounded and his friend, Benjamin Rush, "the most famous doctor in early America," Veit said, had him taken north towards Morristown and the American hospitals. Leslie died on the way and he was buried in Pluckemin. "Rush paid for his marker, so it actually speaks to how the revolution is very much a civil war."
Sometimes a gravestone is not a stone at all, as the Pleasant Mills Cemetery by Batsto was famous in the 1700s and 1800s for iron making. "It's in an area without a lot of natural stone, so the folks who worked in the blast furnaces actually cast and inscribed their own iron grave markers," Veit said. "There are probably 2 dozen examples in southern Jersey, total."
By the end of the 1700s, you begin to see a more plain style similar to Philadelphia gravestones with no decoration on the top. Veit showed attendees a stone with an inscription detailing a man named Abraham Van Gilder, born on the high seas in October of 1701.
"Imagine poor Mrs. Gilder, giving birth on the high seas," Veit joked. Gilder died in February of 1818, living for 116 years.
"That's a heck of an accomplishment in a world without modern healthcare," Veit said. "[The epitaph] says he was a rebel against heaven and by Christ's free grace became an heir of God and a newborn son. I thought he might be a rebel against heaven as an atheist or an agnostic, but my students have suggested that he's a rebel because he's just not going [to the afterlife]. All his friends have passed on and he's still here ticking."
When faced with a cemetery that needs to be repaired, may it be from vandalism or overgrown plants, you must provide documentation that includes researching the history of the site and recording the current condition of the stones and burial ground.
Next, Veit explained, you must identify the stone material, its designs and its carvers.
"You may want to do a 'conditions assessment report,' where a professional comes in and tells you what is going on in the cemetery and what needs to be done," Veit said. "Then, come up with a list of priorities. Often with larger cemeteries, you can't do everything, so think about short term and longer term goals. If we listen to the stories cemeteries have to tell, they can be tremendous sources of information about local history and culture."
PHOTO COURTESY of Anthony DePrimo
PHOTO COURTESY of mementostones.blogspot.com