Cross country opened up their 2021 season after a long, 350-day hiatus due to COVID-19 with the Jasper Winter XC Invitational this past weekend. It was the first time any Monmouth runner had raced this course in Montgomery, New York.
Typically, the cross-country season takes place in the fall as this will be the first ever winter cross country season in Monmouth history.
Heading into the season, MU was tied for third place in the men's Preseason Coaches' Poll with Manhattan. Both schools received 93 points while the Monmouth women tied for fourth with Quinnipiac with 84 points each.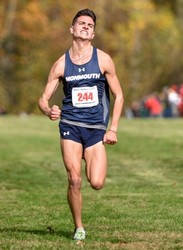 "That was fun! Our first competition in over 11 months; it did not disappoint," said head coach Mike Nelson. "Both groups competed with grit today. The course was basically all slush and mud. Both teams executed their race plans and moved up through the competition."
Five Metro Atlantic Athletic Conference (MAAC) teams competed in the event including Monmouth, Manhattan, Quinnipiac, Rider, and Siena.
The men exceeded expectations in a big way in their debut placing first in the event with 32 points while the women placed second with 45 points in the event. Junior Louis DiLaurenzio from Hazlet, NJ led the charge for the blue and white coming in second out of 60 total runners with a time of 25:59.5.
Additionally, junior James Hoffman from Ocean Township, New Jersey was not far behind DiLaurenzio with a time of 26:15.6 in third place while sophomore Cameron Janovic of Oceanport placed fourth running at a time of 26:17.5.
On the women's side, they had the overall first place finisher with freshman Allie Pierontoni from Woolwich, NJ who got her first collegiate win with a time of 18:22.9. She came in first out of 56 total runners while freshman Katie Locker from Elizabethtown, PA came in fifth place
30.1 seconds afterwards. Locker ran in a time of 18:53.0 while McKenzie Delahanty placed ninth for the women with a 19:01.2 time.
"Having the individual winner on the women's side was awesome as well as the men's team champs," said Nelson. "Overall, it was a great opportunity and we're excited about the MAAC meet in two weeks."
The next event for the Hawks Cross Country team will be on Mar. 5, which is the MAAC Cross Country Championships in Galloway, New Jersey.
PHOTOS COURTESY of Monmouth Athletics