The Monmouth Hawks women's bowling team participated in the Garden State Classic at Bowlero in North Brunswick, New Jersey this past weekend.
Their head-to-head record on the weekend was 4-6 but they did achieve three individual match victories over Felician, Bloomfield, and New Jersey City University on Saturday. Most impressively, they led the entire tournament in total pinfall on Saturday with an average score of 185.8.
"We didn't perform to our abilities Friday but turned things around Saturday and landed our first tournament win in our program's history," said Director of Bowling Karen Grygiel. "I'm proud of the way our athletes rebounded off of a rough start. We still have many things to improve on before we leave for our conference meet on Thursday, but this team is improving every day."
Saturday really was an impressive day where the Hawks knocked down 4,644 pins for an average of 185.8.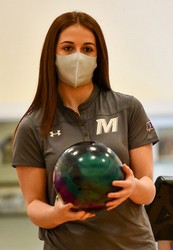 The leaders of the team in this tournament were left-handed freshman Jamie Phelan and right-handed freshman Jenna Lehrer. The rookies shined all weekend long leading Phelan to a Mid-Eastern Athletic Conference (MEAC) Rookie of the Week Selection for the second time in as many weeks. She bowled to an incredible 207.40 average in five total games with three 200-point efforts which led all bowlers.
Phelan joined Lehrer as Monmouth's lone representatives on the Garden State Classic All-Tournament Team. However, they were able to get three bowlers into the top ten of the tournament standings with senior right-hander Camelia Coffman added to the mix.
Coffman knocked down 892 pins with an average score of 178.40 which finished her tenth in the tournament overall. This is the third time in her impressive career as a Hawk that she has placed top-ten in a tournament.
On the other hand, Lehrer was participating in just her second-career tournament where she placed fifth place overall and knocked down 956 pins. This was an average score of 191.20 while she also notched her first 200-point games in her career including a best of 229.
Rounding out the MU notables were junior right-hander Skylar Smith and senior right-hander Amanda Zappacosta who each had some of their best events on the season.
Smith had a 200-point game which makes it 22 for her collegiate career placing 19th in the tournament. She put up a season-high of 229 while Zappacosta scored her season best of 174.
The weekend high for Monmouth in their matchups was 975 total pins in the win over Felician College.
Next on the schedule for the Hawks is a trip to Greensboro, North Carolina for their first conference matchup of the season. This will be a three-day MEAC event at the Triad Lanes Greensboro set to begin on Friday, Feb. 19.
Monmouth is currently 7-8 overall on the season with a .467 winning percentage that they look to improve upon this weekend.
PHOTOS COURTESY of Monmouth Athletics