Monmouth University will welcome a new Athletic Director on July 1 after Dr. Marilyn McNeil has held the position for the last 28 years. The name is Jeff Stapleton, the current Deputy Athletic Director who has served the University for 31 years in a variety of roles.
"This job was so attractive because there are so many wonderful people in this office," Stapleton said. "Our coaching staffs, administration, and student athletes are second to none and as good as anybody out there. They make it great to come to work each day."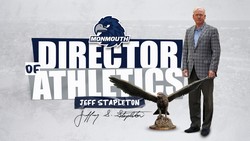 Stapleton was promoted to his current job in 2015 where he oversees a lot of the day-to-day activity in athletics including facility construction and development. He served an integral role in implementing some of the area's nicest facilities such as OceanFirst Bank Center, Kessler Stadium, and many others. Stapleton also held many roles within Monmouth athletics before that promotion, including supervising the football team, baseball, and men's basketball.
"He is a unique candidate, combining a wealth of experience, a deep institutional knowledge base, and an enduring passion for Monmouth and our student/athletes," said University President, Patrick Leahy, Ed.D. "Jeff has been instrumental in developing Monmouth into one of the nation's leading mid-major athletics programs. He is the right person to continue us on this path."
Stapleton will become the seventh Director of Athletics in program history when he begins his job for the 2021-2022 season. The University decided that an external search was unnecessary in this case due to the deep pool of talented people currently working in the athletics department. "Conducting internal searches gives our employees opportunities to develop their careers," said Leahy. "If no suitable person had emerged from an internal search, then I would've expanded the search to include external candidates, too. In this case that wasn't necessary."
To this day Stapleton serves as the supervisor to three of Monmouth's most successful sports teams with ten National Collegiate Athletic Conference (NCAA) Tournament appearances between football, baseball, and men's basketball during his time here. However, Stapleton is looking most forward to building a stronger relationship with his players and staff on a personal level with this promotion.
"I am most excited about working with these student athletes closer and helping them achieve their goals of not only graduating but their next step in life," added Stapleton. "I am looking forward to meeting these athletes in a different light than I do in my current role."
PHOTO COURTESY of Monmouth University
PHOTO COURTESY of Monmouth Athletics