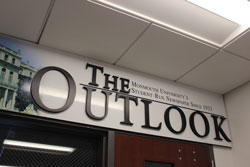 Energy Service Corps
This was an exciting week for the Energy Service Corps, a non-profit national organization.
Weatherizations will be starting this week; they are a free service that will lower your utility bill about 30 percent. This service is funded by donations given by students and faculty from around the campus, every penny given will help bring this world to a brighter future.
The collection boxes have been placed throughout campus and will stay there until the end of the semester.
Because the Energy Service Corps is a nonprofit organization 100 percent of the proceeds will go towards supplies for weatherizations.
Interested in teaching kids about saving energy? Join us for four days during Spring Break to teach in Newark, Trenton and Atlantic City. Food and housing are provided for those willing to participate; for more information or to sign up contact tom at tom@energyservicecorps.org.
College Republicans
Are you concerned about rising gas prices? Are you concerned about our future? We certainly are, and we want to hear your opinion on these matters and how you believe the government should solve these issues. Have something else you want to say on the issue of public policy? Please tell us.
The next meeting will be on Wednesday, March 7 from 3:00 to 4:00 pm in Bey Hall room 228. E-mail us at mugop@monmouth.edu if you have any questions.
All Lifestyles Included
Just a reminder that ALI meets every Wednesday on the third floor of the Student Center (in the corner near the Affilito Conference Room)at 3:30 pm.
We have a lot of exciting events and fun social gathers this semester including our fabulous, annual drag show and so much more!
Come check us out, we are always doing something entertaining and getting everyone involved!
The Outdoors Club
The Outdoors Club wants to thank everyone who came out for the Bubbakoo's Burritos and rock climbing fund raising event! The ODC will be sending out emails in regards to the upcoming horseback riding trip so keep a look out. All of the spots are filled but if you are still interested contact President Kyle at s0705020@monmouth.edu to be placed on the wait list.
Don't forget to check out the official Outdoors Club Facebook page for updated information; feel free to post any questions or suggestions regarding the club and any of the trips!
SGA
You're invited to Student Government's Annual Auction.
The event will take place on Friday, March 30, 2012 at 6:00 pm at the Blue and White Club in the Multipurpose Activity Center. All proceeds benefit Michael's Feat.
Theta Xi
The men of Theta Xi would like to welcome everyone back for an exciting second semester of the school year.
We would like to announce the newest addition to our Theta Xi family, Scarlet Schaad, the beautiful newborn daughter of our advisor and mother away from home, Suanne.
We would like to extend our congratulations to all of those who have recently chosen to 'go Greek.' We would also like to recognize Tyler Havens and the rest of the Greek community for another successful semester of recruitment. We are proud to announce our new Spring Associate Member class Alpha Kappa, congratulations boys. We would also like to thank Taliercios Catering in Middletown and Joe's Pizzeria in West Long Branch for their donations this past semester.
We will be hosting our annual Miss Monmouth fundraiser in the Spring and are looking forward to seeing everyone there! Make sure to be on the lookout for other upcoming Theta Xi sponsored events!
CommWorks
CommWorks: Students Committed to Performance has a new weekly meeting time for Spring 2012!
Visit us on Thursdays 1:00 to 2:15 pm in Plangere room 235.
Environmental Club
The Environmental Club is going to convert empty plots of soil and grass patches on the south side of lot 18 into a thriving rain garden. The purpose of this rain garden is to collect the run-off and polluted water from the commuter parking lots and naturally filter it. Donations by either funds or materials, such as plants, mulch, or stones, are welcome!
Earth Day is also coming up! The Environmental Club will be hosting its second annual Earthfest on Earth Day to help raise awareness of environmental issues around Monmouth and the world. Keep an eye out for flyers.
The Environmental Club is also having a T-shirt sale for only $15 each. Email muenvironmentalclub@gmail.com if you want to get involved in the Environmental Club, want to donate, or are interested in a T-shirt. Please let us know if you have any environmental concerns about Monmouth University!
RHA Movies in Oakwood
Due to the halls closing for Spring Break there will be no movie screenings this week.
Have a great Spring Break!
Movie titles such as New Year's Eve and Hugo will be shown the following week when we return.
Economics and Finance Club
The Economics and Finance Club will be meeting every Wednesday at 2:30 pm in Bey Hall, room 231.
Students can check out our website for further information as well as our calendar of events at muefc.wordpress.com.