The Stigma Faced by Female Sports Fans
---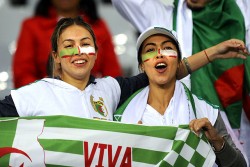 They cheer right along with everyone else, shouting and applauding, booing and sighing, sitting on the edge of their seats as a pitch is thrown, holding their breath as the ball hits the backboard and bashing the referees for making bad calls. They talk sports, are up-to-date on all of the latest trades and stats of players and team rosters, and are able to participate in heated conversations. They wear their team's colors and their favorite jersey, usually with their favorite player's number displayed on the back. They jump up when their team scores, rounds of high fives going around. They are the female sports fans, and are as well-versed in sports as many other die-hard sports fans out there.
The stigma of being a female sports fan has plagued many. Women do not watch sports purely for the sake of pleasing a boyfriend, but watch sports because they want to. Nicole Keslo, junior psychology major and Yankee fan said, "The worst thing has got to be the stigma against hardcore female sports fans. Whenever you say you like a team there's always that guy in the crowd who makes a snarky remark about how girls don't understand sports. Sorry guys, you're sadly mistaken!"
Marilyn McNeil, Director of Athletics, still sees that some women like teams to please their significant others. "I think this is a sociological issue. Women still tend to be fans of what their boyfriends or husbands, want to do. And those 'others' aren't willing to include the women's game in their choices," she said.
McNeil even wrote about the lack of coverage for women's collegiate basketball on nacwaa.org. In the article, McNeil talks about some of the myths about women's basketball and women in sports and why they have not gained the appeal that it deserves. She mentions revealing facts about women participating in sports and how women in sports are strong, independent and just as assertive as their male counterparts. Men are not the only ones who can work cooperatively on a team, women are just as capable as well.
With spring comes many people's favorite pastime- baseball. Opening day is right around the corner and many are getting more and more excited about the first pitch and seeing the results of off-season training. "I know a ton of girls who are just as pumped about the upcoming season as I am. Hopefully with the return of Andy Pettitte the Yanks will have an awesome season and we'll get our 28th world championship! I know I'll be out there with all the guys rooting on my team!" Keslo said.
Another stereotype out there about female sports fans is that women pick their favorite players based on looks, not performance. Where in some instances this may be true, majority of the cases it is a load of bologna. Female sports fans pick players they see who excel and are good at what they do, whether that be racking up RBI's or scoring touchdowns. Keslo said, "As a girl, no one expects you to know things like batting averages and other stats to prove you are a fan."
Many female sports fans want to talk sports with guys because defending one's team is like defending one's family. Many women bleed their team colors in support for them, going to great lengths to attend games and support them there, or scream their heads off at the TV. "I scream, yell, clap and cheer. Once, I went to an Eagles/Giants game in Philadelphia wearing a Giants jersey. That was rough and I took a lot of heat, but I gave it right back, especially at the end when the Giants won," said Vicki Blaess, University student.
"I like who I like for different reasons, but I am not going to change my opinion on who I like because someone makes fun of it," said Stefani Mitre, University student.
There have been numerous articles published where people put in their two cents about female sports fans. Some male writers bash female fans as a joke. Alyssa Rosenberg is a correspondent for The Atlantic and discussed in an article on theatlantic. com about the predicament that female fans encounter. Male fans are in their own world watching sports, almost like they do not want to share sports with female fans. "I think guys think male sports are for male fans, and I often wonder how they feel about female sportscasters now sprouting up. Women might be into the game, but not necessarily know all about the play calls, positions, rules and penalties. This probably makes guys think, 'How you be into this, you don't even know anything about the game,'" Blaess said. This is a common theme of male fans thinking that female fans lack the proper knowledge of sports backgrounds thus sometimes not taking them seriously. "Sometimes I think that there is sexism in being a female fan because people think you don't know as much, but that makes me want to prove them wrong by knowing everything I can about my favorite teams," Mitre said.
So are women becoming sports fans more so now than before? Denise Wescott, head coach of the women's lacrosse team at the University thinks so. "Female sports fans usually support men's teams, but not women's teams. It is a shame because they are missing some great games and great athletes," Wescott said.
Sports are there to be enjoyed and savored for everyone to see, and fans will always view things differently. Blaess said, "I think girls look at it from a different angle definitely, but that doesn't mean we love it any less." Women, and female sports fans, are just as competitive and eager as their male counterparts; they just want to watch the game.
IMAGE TAKEN from blogspot.com