Reality Television Shows Sometimes Teach Viewers More About Themselves Than They Think
---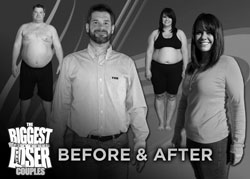 "The Biggest Loser" and "What Not to Wear" are my two favorite shows. I will not miss an episode of "The Biggest Loser." I literally would not be able to go to sleep on a Monday night if I did not see who was knocked out of the competition and how much weight they have lost since.
Every time I turn on TLC and "What Not to Wear" is on, my day is made. If I do not watch it from the beginning, I make sure to see the hair and makeup makeover.
What is my fascination with these two shows? Is it because I am interested in the health and fitness industry? Absolutely. Is it because my career calls for professional attire and I need to learn how to coordinate clothing and jewelry better? One hundred percent yes. But I can research health issues and fashion on my own time without watching either of these shows. So what is the underlying reason for my infatuation?
I can relate to them. Each and every one of us can. I am not morbidly obese nor am I considered overweight. But I do not always feel comfortable in my body, especially after splurging on half of a pizza pie and chocolate cake. I guarantee that almost everyone reading this feels the same way sometimes.
Same goes for fashion. There are days that I know Stacey London and Clinton Kelly from "What Not to Wear" would have a heart attack if they saw what I wore to class. Do I really expect myself to get in a pair of jeans on a Monday? No way. But when I go through my closet looking for casual outfits, I usually end up hating all of my clothes. So when I turn on these two shows, I find inspiration and hope. I see an end result and a plan on how to get there. I see other people dealing with similar struggles as myself. That is the beauty of reality television.
Any fan of "The Biggest Loser" understands the concept of the show. Contestants compete in physical activities, learn healthy eating habits and "weigh in" every week. One person goes home after each episode, and there is only one winner.
The competitive aspect of this show is a seller for many people, especially athletes and sports fanatics. However, those who are health conscious may find it even more of an addiction. A person is able to relate to this show in more ways than just caring about weight and nutrition.
You also learn to love the contestants; you cheer them on and cry when they suffer. At least, I do. The show engulfs your attention for the two hours it is on; you become involved in it.
Personally, I watch the show because I learn new ways to exercise and find motivation to make my workouts more productive. "The Biggest Loser" offers some kind of entertainment for everyone. If you have not watched an episode, tune in on Monday nights at 8:00 pm on NBC.
"What Not to Wear" is not a competition show. Rather, it stars one individual for the entire hour and transforms their life both on the inside and out.
Fashion experts London and Kelly give the person $5,000 to purchase an entirely new wardrobe after trashing all of the old clothes that they deem unacceptable. Their constructive criticism, though sometimes extremely harsh, is enjoyable to watch from beginning to end because you get the opportunity to observe how the individual reacts.
Highly entertaining and occasionally emotional, the complete transformation of the person craves our attention. Any person, although mostly ladies, can easily relate to this show because of our insecurities about the way our bodies look in clothing, how our attitudes affect what we wear, and how we present ourselves to the world every day. I highly suggest watching an episode during the day or on Thursday nights at 10:00 pm on TLC.
Think about your favorite television shows. Why do you watch them? Is it purely for entertainment or is there a bigger meaning?