Declaring Majors, Minors and More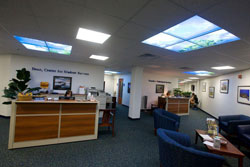 In a few short weeks students will be picking their new classes for the 2014-2015 school year. For freshmen this is especially important because this also means transitioning to a new academic advisor and possibly changing or declaring a major.
Misty Hinshillwood, a freshman, explained that she came to the University undecided, but quickly chose a major. "When I started here, I was unsure what I wanted to do but then I saw how all the humanities courses fit together," she said. "This made me decide to choose to major in politics and minor in philosophy even though I have enjoyed all the courses in this area."
The first year in college is an opportunity for many students to try different courses to see what area of study will best fit their interests and strengths and try to help them decide on a potential major to declare prior to becoming a sophomore. While the University does not require that students declare a major until the end of their sophomore year, the sooner they start, the better.
The office of first year advising services helps students decide on which major is best for them if they are unsure and allows them to take career and interest inventory tests to help them decide on a possible major. When freshmen prepare to become sophomores, they have an advisor from their respective major. Sometimes a faculty member from the major area will be the advisor if one is declared prior to starting college.
Assistant Dean of the School of Humanities, Golam Mathbor noted that he sees a significant increase in a student's confidence level from freshman to sophomore year. "I feel students have a smooth transition because they know more about the resources available to help them," said Mathbor.
This is an important step as the student/advisor relationship becomes more geared towards the intended major and possible paths within it. Many don't realize this until later in the year, but it is important to realize this sooner than later since the beginning of a student's time at the University is the time to discuss options such as experimental education, study abroad and other possible course clusters.
Matt Spinnelli, a junior, said, "When I was a sophomore last year, I had frequent contact with my advisor to discuss options because it was a major transition from freshmen year with many options to consider."
Sophomore year is just as important as freshman year because many students still have mainly general education requirements such as Information Technology or Foreign Language to complete and are beginning their major courses as a result. This is also a time where any academic issues must be resolved from freshman year where abbreviated summer classes can help close the gap.
Some students have already taken several introductory advanced placement (AP) courses in high school and were able to get a head start in upper level classes. For example, some high school courses such as AP English 12 and AP Psychology can transfer in as college credit courses upon successful completion of the AP Exam.
Annie Siegel took advantage of this because it allowed her to come in to the University having completed the necessary introductory course in her major. Those credits also fulfilled several other general education requirements. "This will allow me to graduate in two and a half years," Siegel explained. She continued, "This is one of the reasons I chose to come here because I was able to get right into my major courses in my first year." As a result, it is possible to obtain sophomore status in the second semester of freshman year and get a head start in the major.
It is exciting to know that a year of college has been completed, but important to see that new challenges await in the coming year.
PHOTO TAKEN from youvisit.com