When and How to Take Advantage of the University's Travel Opportunities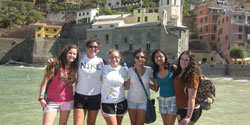 In today's society of ever-increasing competition, studying abroad is becoming a popular option. This helps students learn about other cultures as well as more about themselves.
Lexi Morrison, a sophomore communication major, had the pleasure to study in Australia and enjoyed every minute of learning about a new culture. "Living in Australia allowed me to see the world in a different light. I became more culturally diverse, making friendships with people from all over the world, with completely different backgrounds than myself," Morrison said.
Morrison added, "I learned about cultures and the many differences between those cultures, and through these interactions, I ultimately learned about myself. Studying abroad allowed me to mature in way I didn't think I had to. I became more independent, thought about different aspects of life, considered new lifestyles, thought deeply about my future, and overall became more well-rounded."
For Morrison, this changed her life and even way of thinking forever. The Australia program is offered in the Fall and Spring only which can be a major advantage for students as it allows them time to explore the country and transition into a new culture.
Morrison recommends this because it allows time for exploring, unlike the Monmouth Fall semester, students are given a two week break between quarters as the term started in the middle of July. "I also feel as though you don't truly begin to become part of a culture until well after six weeks. Those first weeks are the tourist weeks. Some may disagree, but I think you are still set in your American ways the first month you are abroad," said Morrison.
Morrison continued, "You may start adapting to their ways throughout those weeks, but you don't start living as a part of that culture until after the first month or two." This is often due to the culture shock of the transition one goes through when adjusting to a different country. While summer programs are an option, they are often short lived and do not allow enough time for exploration of the country as classes are condensed into a concentrated time frame.
Morrison also encourages students to take advantage of their time away by exploring the host country and taking in all that they can. She also noted that class size was quite large compared to Monmouth. "I had lectures where there were 100 people or more in the class and attendance is not taken so it is just as important to know how to study effectively while abroad because the teaching style is often very different." While these grades are not recorded on the University transcript and are marked as transfer credits, graduate schools are likely to look at them heavily.
Tom McCarthy, Assistant Director of Counseling and Psychological Services, feels that the experience is very beneficial but is not necessarily advantageous when applying for a job. "It is a great experience for all, but it depends what type of job one applies for after graduation. This does not mean preference will be given either however students should consider this option when possible."
Amanda Barnum, a junior social work major agreed. "It depends on what program you get into and the requirements for the job, but should be considered early if planning to go abroad."
This experience is very worthwhile and something that will never be forgotten for Morrison. "The fall of 2013 will forever be one of the best times of my life and I truly believe it was because of the people I traveled with, lived with, and met, that made the experience all it was," said Morrison.
Morrison added, "The Australia program is for the fall or spring semesters, a summer program is not offered. However, I think this is a wise decision. The summer sessions are only 4-6 weeks and I personally believe you cannot experience all of Australia and what is has to offer in that short period of time."
Students interested in studying abroad may want to attend a first step meeting to see which program is best. Check your student email for details or contact the Office for Global Initiatives in Bey Hall.
PHOTO TAKEN from monmouth.edu