The National Council of Negro Women (NCNW) hosted its annual "Glow in the Dark" dance party in the Rebecca Stafford Student Center (RSCC) on Saturday, March 8 from 9 pm – 1 am, with music from DJ Taj of 106 & Park.
Approximately 200 students attended the dance party, helping NCNW raise approximately $650. Students were able to purchase tickets for $3 before the party and tickets were sold for $5 at the door. Each student was allowed two guests each, who also paid $5 at the door.
Kaila Lane, President of NCNW, said, "This 'Glow in the Dark' party is similar to the 'Back 2 Business' party that we hosted earlier in the year. My goal is to make this the 'party of the year' and allow students to have a [venue] on campus to have fun."
Previously, NCNW has hosted a party at the beginning of each semester, with special guest DJ Wallah of HOT 97. "Although we enjoyed having DJ Wallah at our parties I felt it was time for a change," said Lane. "DJ Taj is just as well-known as Wallah because he is on 106 & Park; plus, Taj is only a high school student which makes it that much cooler to have him here."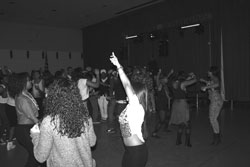 DJ Taj, who played an assortment of music throughout the evening including Hip-Hop, R&B and Reggae, was excited about hosting the event at the University. "It's just a good feeling seeing people of all ages enjoying the music," said DJ Taj. "I had no idea that this was a party crowd. When I first came here I thought I was just going to be at another boring party, but when I actually started playing music, it was a lot better than I imagined."
To promote the event, NCNW placed an extreme emphasis on advertising. "Advertise, Advertise, Advertise," said Lane. "We sent e-mails out almost every day, we hung up posters around campus and we relied on social networks like Facebook, Instagram and Twitter. Even the DJ promoted the event himself. There is so much power in advertising."
Merissa Jones, advisor of NCNW, was pleased with the effort the members of the club placed on holding the event. Jones also said that despite the e-board being new and considering it is a Saturday night and an alcohol-free event, the turnout was pretty good.
"The proceeds we earn by hosting this party help fund our service projects as well as trips and events we attend throughout the year," said Jones. The NCNW participates in the Adopt-A-Family program during the Christmas season. NCNW also attends the "Black Solidary Conference" at Yale University and the African American Museum in Philadelphia throughout the academic year.
Lane hopes this event raises awareness about NCNW and encourages other students to become part of the organization. "I wanted to use this event to advertise NCNW and potentially get more boys to become part of the club. I know it's the National Council of Negro Women, but we used to have more boys in the club and I just would like to get back to that."
"Students also think that we are part of the African American Student Union (AASU), and that's why we wanted to host our own event for once. It's good that we co-host events with other clubs on campus, but we want to show students that we are not the same," said Lane.
Upon arrival, students and guests were required to show valid identification and leave their respective identification at the door. Guests were also given glow sticks and a raffle for the door prize.
All attendees of the event were prohibited from bringing alcoholic beverages or containers inside the RSSC.
Brittney Wade, a junior communication major, said," It was really nice to see a big group of the black community come out and not have drama. It was definitely worth the $3."
J'lyn Martin, a junior communication major, said, "The DJ played a good assortment of music for the party and got the party hype. I would attend an event like this again because organizations on campus don't usually host parties like this. Overall, it's a fun event to participate in."
"Everyone still keeps talking about the party, the DJ and how the lighting was amazing. This event was a great way for students on campus to interact and meet each other in a fun environment," said Lane.
PHOTOS TAKEN by Taylor Copp