At the heart of our hawk is a group of approximately 45 students who are responsible for uplifting the spirits of students and athletes. Deemed "The Big Sound of the Jersey Shore" by former President Paul Gaffney, this "Spirit Team" ensemble plays your favorite tunes like LMFAO's "Party Rock Anthem" and DJ Khaled's "All I Do is Win" at basketball and football games in an effort to get the crowd going and help to lead the teams to victory.
The University Pep Band falls under the umbrella of the Department of Music and Theatre Arts, according to Bryan Jenner, the advisor of the organization. The band is open to any student of the University of any talent level who has any interest in participating in the organization, and even encourages alumni of the University to participate in the organization after they graduate.
In middle school and high school, band members such as Meaghan Brandt, President of the Pep Band, who primarily plays the flute, recognized that there were certain stigmas that may have applied to members of a band that are absent in college. Brandt, a senior education major, said, "There is no such thing as a 'band geek.' I don't feel that at all. The athletic teams are very embracing of us and they recognize that we play a huge role in their success."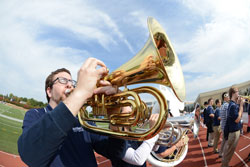 There is an overwhelming sense of community that the Pep Band gives off that is almost unparalleled by any group on campus of its size. The reason for the tremendous sense of family is band camp, according to Kevin Dillon, Treasurer of the band. Although the University's band camp is nothing like the "American Pie" version, it's still Dillon's favorite part of being involved in the Pep Band.
Dillon doesn't only use band camp to hone his skill at playing the clarinet in hopes to be a better player than Squidward, it's his favorite time to meet new members and catch up with his band members in hopes to make lifelong connections. "I came to this school not knowing many people, but because of Pep Band, I was able to make friends, and I now live with two of the band members," he said.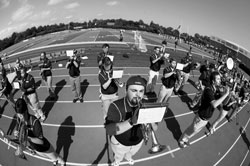 The self-sufficient group of Pep Band students places a high emphasis on education. Besides being talented musicians, they recognize the value of not only playing an instrument, but thriving inside the classroom as well. "We're very proud of the fact that out of all of our members, 18 of them were Dean's List students. Many of our members have 4.0 GPA's, or close to it," said Jenner.
Jenner is also impressed by the diversity of majors Pep Band members have. He feels that the varying areas of study contribute to the success of the organization academically. Jenner said, "Students tutor other students of the band to keep the band in such a high academic standing."
Although the Pep Band doesn't host fundraising events, they focus on supporting philanthropic events and playing at events such as the University's Student Employment Appreciation Day, Long Branch Columbus Day Parade, Homecoming Parade, Relay for Life and any other events that they are invited to. "It's very awarding to give back to the community," said Jenner.
The University Pep Band has made connections with companies and organizations outside of the University as well. The Pep Band has endorsement deals with instrument manufacturing companies like Jupiter, and Maypex, Vic Firth and is sponsored by Scala's Pizza in Long Branch.
Jenner is looking for more driven students to become members of the Pep Band. He encourages passionate students to express their musical abilities and effort at their informal auditions.
There is a place in the Pep Band for almost any student on campus. Even though this diverse group of students is made up of many different areas of study and musical backgrounds, they all have one thing in common – the love for what they do. These students, who have an astounding love for music and place an extremely high importance on academia and completely embody the school's mantra, "Monmouth Hawks Fly Together." This organization is more than just another group on campus. They are a family.
Mara Cige, Secretary of the Pep Band and the Spirit Officer, said it perfectly, "We are just a bunch of quirky kids who love to make music."
ALL ABOVE PHOTOS COURTESY of Jim Reme}