The Spring Semester Serves as a Fresh Start for Many Students
---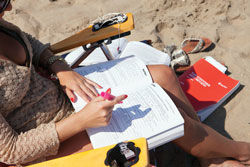 The new spring semester brings new challenges and possibilities. It seems as though students have just had a whole month of relaxing by Christmas trees and fireplaces during winter break, only to have a new list of classes to drag their feet to by the time the end of January comes around.
It's a short semester, saturated with events and deadlines ending earlier than ever in April this year, due to the University's new 14-week schedule. With such a short time span for students to get their lives together, will they be able to rev up their motivation towards the spring semester?
Fall is always a time of beginnings; as the red and orange leaves fall to the ground, students gear up for a brand new year.
"I definitely am more motivated in the fall; it's a new school year, you are so excited to be back, you think you're going to do great and you have an open mind," Jackie Giacalone, a junior communication student, explained. "Because of that motivation, my grades are better in the fall," she continued.
When 21 students at the University, ranging from sophomores to seniors, were asked which semester they felt more motivated in, 20 claimed that they were more driven in the fall. Only one student felt more motivated in the spring.
Despite these attitudes, students' grades seem to improve in the second half of the year. Claude Taylor, Athletics Professor in Residence for the Communication Department and a First Year Advisor, has seen first hand the growth of grades in the spring semester.
"Returning to school from winter break is less disruptive for academic habits than summer can be. I think students are more 'dialed-in' for spring than the start of school in September," Taylor explained.
For some, the spring brings the promise of a fresh start. You can wipe the slate clean, erasing the D's and embarrassing moments from the fall semester behind all while gearing up for a more succesful spring semester.
"I'm more motivated in the spring because if I didn't do as well in the fall, I feel more obligated to get my grades up in the spring," Jackie Burzo, a junior health studies student, said.
Taylor added, "Students catch more enthusiasm in the spring… due to less time away from schoolwork and the change of seasons."
As the chill of winter break begins to melt away, the sunshine of spring encourages students to emerge from their dorm room hibernation.
But when the temperature begins to rise into the seventies, students would rather walk down to the beach or stroll through Pier Village than hunch over a computer in the library.
This forces students to get all of their work done so they can head down to the sandy shoreline and enjoy their down time.
"I know I want to get stuff done so I can go to the beach. In the fall, the weather is so cold that I just want to stay in my bed all day," Courtney Motolla, a junior anthropology and elementary education student, said.
No matter the semester, it's important for students to keep up with the commitments their schedules throw at them, whether it be club meetings, sports practices, Greek events, basketball games, or paper deadlines.
If your grades fell below your expectations in the beginning of the year, spring gives you a second chance.
"It's always great to keep an enthusiastic and positive attitude no matter the grade you receive as long as you stay positive and work with your professors," said Ashley Beneventine, a sophomore social work student.
"My advice is moderation," suggested Taylor. "Students who struggle to keep up with schoolwork should not totally deny themselves some warm weather leisure, they just have to limit their time to a reward for getting necessary school tasks done. I tell students to make a social life schedule too, and stick with it."
So whether you're inclined to hit the books while wrapped in a sweater or lounging on the beach, the spring semester is a fresh start for all of us.
College is all about balance, and if we try our best to stay motivated, we'll all be at the beach before we know it.
IMAGE TAKEN from goingconcern.com