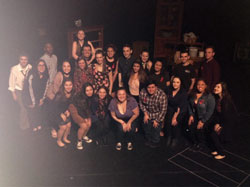 STUDENTS ATTEND CABARET FOR A CAUSE TO BENEFIT BROADWAY CARES: EQUITY FIGHTS AIDS.
(PHOTO COURTESY OF SUSAN SCHULD)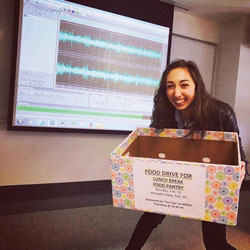 STUDENTS COLLECT FOOD DONATIONS FOR LUNCHBREAK FOOD PANTRY IN RED BANK.
(PHOTO COURTESY OF BRIANNA MERRIMAN)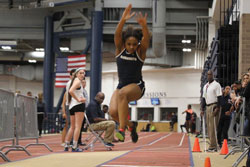 PATRICE BASTON AND TRACK TEAM COMPETE AT THE OCEANFIRST BANK CENTER.
(PHOTO COURTESY OF PATRICE BASTON)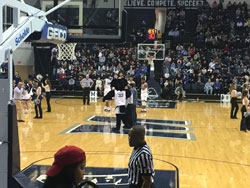 MEMBERS OF 'BINARY TRIO' TEAM FROM RIGHTANSWERS@MONMOUTH COMPETITION RECEIVE RECOGNITION AT THE MEN'S BASKETBALL GAME.
(PHOTO TAKEN BY AMANDA DRENNAN)