I remember my freshman orientation over the summer like it was yesterday. I remember feeling insecure and nervous around so many smart and capable individuals. I was doubtful of my own capabilities at first, but once I started classes at Monmouth University, I saw how much I could achieve and I grew so much as a person during my time here.
I am proud of myself for remaining strong and pushing through to the end even when I felt like crumbling. However, I must owe a lot of my success and happiness to my family and my friends. I could not do anything without my family and friends by my side guiding me through and believing in me.
Mom & Dad: I want to thank both of you for always loving me and supporting me during my undergraduate career at Monmouth. Thank you for believing in me to achieve my goals and work toward a great future. I love you both more than anyone.
Michael & Anthony: You two are not only my brothers, but my friends for life. I know I will always have you two by my side. I cannot thank you enough for being such great younger brothers.
Krystina & Alyssa: I want to thank you both for being such amazing cousins. You are both practically older sisters to me. You are always there for me when I need you to give me advice, to hang out, to support me, and to have faith in me. Thank you both for keeping me calm throughout the application process for MU and also for graduate school at Rutgers University. Knowing I have two strong women on my side no matter what gives me strength to stand tall and stride toward my goals.
To all of my friends: Thank you for being my rocks, my beams of light in both my darkest moments and brightest moments. You all have watched me grow and have been so supportive of my transformation from an insecure, closeted girl to a confident, capable, out-and-proud woman. Thank you for making me laugh until I cry, for making me feel things I did not know I could feel, for inspiring me to continue to improve myself and the world around me, and for putting up with all my rants and mood swings. I love you all. Here's to us and our bright futures together.
Sandy: Thank you so much for giving me the opportunity to work for The Outlook all four years of my undergraduate career! You have confidence in me and you have been such a big help to me during my time here. I will always be grateful for this experience and I will never forget it.
Kelly: I want to thank you for being an outstanding Advertising Manager and for continuing to guide me and the rest of the editorial staff throughout the years. You have contributed so much to this newspaper and your dedication and hard work is inspiring. Although I am speaking for myself here, I think we could all agree that you were more than helpful and awesome to us!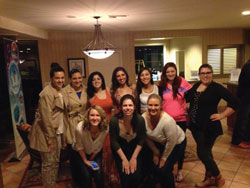 Outlook family: Thank you, everyone, for the unforgettable laughs and memories, for the amazing trips we spent together on the West Coast, and for being such incredible human beings all around. A burger from In-N-Out will never be the same! Your hard work to make sure the content of our paper is factual and fantastic will be a skill that you will all carry with you into your careers as professional journalists, editors, photographers, and designers.
I also very much appreciate everyone's commitment to making the world a better place and for standing on the side of activism. Being a part of this team has made me feel more empowered as an individual, and I believe that all of us will achieve great things throughout our lives. I will not forget any of you!
MU Psychology Department & Professors: Thank you for giving me the opportunity to be a psychology student at Monmouth and for being committed to helping students achieve success. I have learned so many things that I would not have learned at another institution. My learning experience at Monmouth has given me confidence that I am capable of succeeding academically and professionally moving forward into graduate school and beyond. Thank you for guiding me through the process each step of the way and for making my experience at Monmouth exceed my expectations.
I will miss driving to campus and seeing my peers every single day. I will miss the beauty of this campus and being located close to the beach and Inkwell Coffeehouse. I will miss working at the Plangere Center for Communication every day at The Outlook office. I will miss attending the ACP Journalism Convention in California each year. Most of all, I will miss each one of you at the Outlook, and all my friends I have made here.
Although I will no longer be a student at Monmouth, I will always be a Hawk. I will always feel proud to be an alumna. Good luck to all of the students continuing their education at Monmouth and congratulations to all of the graduates!
This is not goodbye. I will always consider myself a part of this huge family. So, for now, I will see you soon.