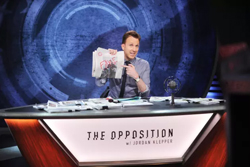 The first episode of Comedy Central's new satire comedy The Opposition with Jordan Klepper begins with the eponymous Klepper introducing the Golden Rule of his show: may you only hear from others what you've already been telling yourself.
From just this "rule," audiences will get a pretty quick idea of what this program is all about. It also previews the overall content of the show: clever, but not packing enough punch.
After the cancellation of The Nightly Show with Larry Wilmore, the coveted post-Daily Show timeslot of 11:30 p.m. Monday through Thursday was left wide open. This previous spot made a star of Stephen Colbert (who now hosts possibly the most prestigious late night stage, The Late Show), and it has potential to launch some underappreciated new talent. Especially in the era of Trump, a political satire is guaranteed to gain some interest among audiences. Is Klepper the right person to have this spot? I say yes. Is this show the best platform for him? The answer would have to be no.
What sets The Opposition apart from some of its contemporaries (The Daily Show, Last Week Tonight, Full Frontal, etc.) is Klepper's character. Where Trevor Noah, John Oliver, and Samantha Bee all stay true to life, Klepper adopts the image of a paranoid, conspiracy crazy, ultra conservative, in the way of infamous Infowars host Alex Jones.
In theory, this is not a bad idea. As mentioned, this formula made Colbert a star on The Colbert Report. His conservative character was so popular, he's even touted it a few times on his new program to rapturous applause. Similarly, when many of his contemporaries are following the typical format, this character could make Klepper stand out.
Unfortunately, both Klepper and the program are poor imitations, not only of outrageous hosts like Alex Jones, but also of the Colbert character. The show lacks any real ridiculous paranoia, over-the-top antics, or wildly unhinged personality that it thinks it inhabits. It strives to be a successful satire of this new genre, but ends up being just a mildly funny critic of it.
It would be easy to dump all the blame on Klepper, or to accuse him of being a poor choice to take over.
But truthfully, Klepper has the potential to be an accomplished host, he is just saddled with an incomplete character and weak writing. In his three-year tenure as a correspondent for The Daily Show, Klepper showed that he not only has a strong comedic voice, but also could also create and star in some incredibly memorable sketches.
His ongoing segments at The Daily Show, like "Jordan Klepper Fingers the Pulse," show how adept he can be as an interviewer and a character actor, but this new program allows him to do very little of what made him successful as a correspondent.
On The Opposition, the smarmy, smirking personality he still inhabits doesn't fit the show or who the host should be, and he doesn't portray enough of the unhinged, mildly insane nature that the show needs.
A lot of the misses of the program come from the fact that it's trying to find a place in an oversaturated genre. As mentioned, Klepper has so many contemporaries, and not just on television.
While the show stands out thanks to its unique formula, it won't find an audience if it doesn't prove itself.
A mediocre program will find an audience, but not a significant one, especially with the Colberts, Olivers, and more continuing to stay in the forefront. The Opposition needs to become less predictable and safe if it wants to be unique and find a long-term audience.
While the show has its share of issues, there is some promise too. Klepper is still an engaging host, and can capture your attention even if the material is nothing new.
At the very end of the second episode, Klepper shows glimpses of an interesting character, one who actually satires the type of conservative host he hopes to.
There are also some funny segments, like one where Klepper cleverly explains his "infiltration" of The Daily Show. When the show moves away from the predictable talking points, it actually shows potential.
The other area where The Opposition exhibits some promise is in its correspondents. A quick introduction to them on the first episode is very well done. They each have their own areas of expertise, and all manage to get in a quality joke in just a few seconds.
Two standouts are Josh Sharp and Aaron Jackson, a duo that both play fictional versions of provocateur Milo Yiannopoulos. They both are excellent, and bounce off each other perfectly. Their characters are also great imitations of Yiannopoulos, and the jokes really land thanks to their portrayals.
The Opposition with Jordan Klepper is truly a missed opportunity, but that doesn't mean improvements can't be made.
Hopefully the program takes advantage of its accomplished host and impressive casts, and isn't afraid to push the boundaries in the future. In an era of "fake news," it takes a lot more to stand out as the best fake news out there.
IMAGE TAKEN from TVFANATIC