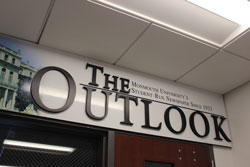 Sociology Club
The sociology club at Monmouth works to take the concepts learned in the classroom and apply them to social activism. They focus on raising awareness of inequalities and social issues that affect all as students. They believe that every person has the ability to make a difference in the community. All student ideas are welcome as they work through issues of race, gender, ability, and more to create an open and inclusive space. In the past they have signed petitions against the Dakota Access Pipeline, which threatened the sanctity of precious indigenous people's land; held American Sign Language classes; and educated students about sexual assault. With Sociology Club, every voice has a chance to be heard and they are devoted to addressing social issues that impact campus.
---
The Verge
The Verge, Monmouth University's online magazine is holding an open call for submissions. Publishable work includes written articles, podcasts, and multimedia work. The due date is March 30. If you're interested, contact Kerry Breen at s0967410@monmouth.edu.
---
Italian Club
Ciao! The Italian club will be hosting La Fiesta Italiana (Italian Festival) today at 11:40 a.m. in Wilson Auditorium. Stop by to immerse yourself in the Italian culture and enjoy some free food!
---
The Council for Exceptional Children (CEC)
The Council for Exceptional Children (CEC) is committed to advancing the success of children with exceptionalities through advocacy, standards, and development.
If you're interested in joining CEC, contact club president Stephani Grana at s0927700@monmouth.edu.
---
The Outlook
The Outlook is looking for students interested in writing for the student-run newspaper. Sections include News, Opinion, Politics, Lifestyles, Features, Entertainment, Club & Greek, and Sports. No prior experience is necessary. The Outlook fulfills practicum.
If you are interested, please e-mail outlook@monmouth.edu.