The Fitness Center opened in 2009, and John Jackman, the Director of the Fitness Center, saw its expansion through.
If you have ever have been at the University's Fitness Center, you definitely know who Jackman is—more commonly known around the University as "Jack."
It comes as no surprise that Jackman is a fitness enthusiast; however, he is also passionate about ensuring the comfortability of his employees and gym-goers.
Jackman says that he is committed to keeping an environment in the gym that fosters comfortability and safety; one of his goals is to build up the center more with another level that includes more updated and state-of-the-art equipment.
Jackman was born in Keansburg, NJ, and his passionate for fitness came early, starting weightlifting at 11 years old. "I wasn't much in to team sports, so at 11 years old, I decided to become a body builder," Jackman said.
"Gyms were Rocky type gyms and kids were not expected to just walk in, but I eventually did," he said, and he later went on to participate in his first body building competition at 19 years old.
After a few years of bodybuilding under his belt, Jackman won his first big competition in 1988, at Cup Body Building Championship in Asbury Park, NJ. Not only was this competition Jackman's first big triumph, it was also one of his fondest memories because of the person whom he shared the victory with: his mother.
"My mom was my biggest fan," he said. "When I was a kid, she would follow me all over New Jersey for my competitions, then she got sick. The Governor's Cup was the first show I ever won and I brought the house down," Jackman said. "Five months after the competition, she passed away."
Jackman said that although it was difficult not having his mother in the audience at his following competitions, he entered one competition as a way to honor her memory. "My mom loved the beach so it meant a lot for me to compete in Mr. Jersey Shore. I won and I always felt like I won it for her. She would have been really excited," he said.
Jackman went on to win numerous titles in bodybuilding such as "Mr. Atlantic Coast," "Mr. Jersey Shore," and "The Jersey Classic."
Eventually, enough wins qualified him for the 1991 "Mr. America" contest held in Atlantic City, NJ. According to Jackman, it was the biggest competition of his life, however, it also marked the last chapter in his life as a competitive bodybuilder.
"I remember I had my whole gym come and watch, which made it the most fun for me," Jackman said. "After that, I just decided not to carry it any further. I used to choreograph my own music and my own poses, but it wasn't the same without having my mom out there," he said. Jackman placed in the top ten in the contest.
Looking back on his ten year body building career, Jackman recalled one of the best days being when he met world renowned body builder Arnold Schwarzenegger.
"I met Arnold at a body building show and got to spend some time with him. He gave me the classic 'how you doing' and we got to work out together the next morning."
Although his career as a competitive bodybuilder has since concluded, Jackman has embraced his passion of fitness through other means.
As former owner of Champions Gym, Jackman began to dedicate his life to helping others maintain their own fitness. In fact, he used to have his own personal training business, through which he was able to help people, including New Jersey-born musician Bruce Springsteen.
However, Jackman did continue to attend body building competitions—as a judge.
"I was an official judge at the Mr. and Mrs. Trenton body building show for about seven years which was a huge honor for me," he said.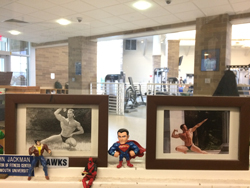 Jackman is very proud of where he has been but even more proud to have spent half his life as a part of Monmouth University's Fitness Center staff, who says that his passion for fitness and helping others are demonstrated by Jackman's gregarious personality and kind-hearted spirit.
Jill Murphy, a senior communication student, who has been working in the fitness center since the end of her freshman year, said that Jackman's dedication to his work and connection with its members and faculty inspired her to be as boss like him when she is in her career.
"I've been with the fitness center for over three years and I've had a really great experience because of my boss [Jackman]."
"I'm going to miss it a lot here [when I graduate] because of him and he's been nothing but great to me and other people," she said.
Jackman's success in expanding Fitness Center over his past 25 years here, and making it what it is today, is due to his hard work and positive mind-set.
"The mind and heart are like parachutes. They are only worthwhile and useful when they're open," Jackman said.
"When it comes to goals in life or trying to overcome obstacles in your path, try and use the approach of not believing in a 'no win scenario,'" Jackman suggests. "Find a way—sometimes it may not be the way you originally planned but keep an open mind, an open heart and find another way. Believe in the "'Win-win scenario.'"
With the addition of the current Student Personal Training Program, introduced by Jon Cascone, Director of Recreation and Intramurals, and headed by Christian Esola, Fitness and Wellness Coordinator, the Monmouth University Fitness Center is the perfect opportunity to achieve any of your personal fitness goals.
IMAGES TAKEN from John Jackman's Facebook