After his first solo album in 2016, Chris Farren released his sophomore album, Born Hot, earlier this month.
A red billboard with a shirtless painting of Farren lounging made headlines in Los Angeles, where he resides. The sign used to promote his latest release, which presented the cover of his album along with the Born Hot-Line, 1-810-BORN-HOT. Those who called the Born Hot-Line received a preview of his single, 'Search 4 Me.'
"I don't think billboards have the power to say "let's check out Chris Farren" but the idea was to make my fans excited for the record and I tried to make the presentation funny for them," said the solo artist in a phone call interview.
"I took a few images of myself and thought they looked too sincere. So I fooled around with paint and drew an image of what the album was," said Chris Farren about the self-portrait he illustrated that is featured on the cover. "I felt that I gave a very strange dead look and the unsettling look felt right."
The 12 song album released through Polyvinyl Record Company followed his first album Can't Die from OneSideDummy Records. Farren was inspired by French pop music from the '60s as its arrangement differs from American music. He also drew inspiration from the bands he had toured with such as Adult Mom, Crying, and Diner. He wanted to incorporate similar elements from their sounds and styles through his music.
Farren recorded Born Hot in his Los Angeles apartment and worked on it by himself, which many credited him for following a DIY style.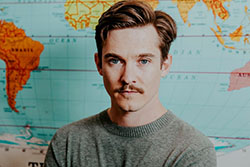 "People would say that because I recorded and mixed my solo work it was a very punk or DIY thing to do, but I don't see it like that," said Farren. "My solo work allowed me to do lots of spontaneous things and have the freedom to create with no guidelines."
Despite a superior album title, the Search 4 Me singer highlighted the album's major themes as self-worth, self-confidence, seeking validation through groups, self-drive, creativity, and learning to be your own party. His lyrics on the third track "Search 4 Me," "I'll be panicking in the Starbucks in the Target across the street wishing I was someone else or just myself with a slightly nicer body" is one of many relating to the record's featured themes disguised with a pop rhythm.
"My last album was called Can't Die so I like titles that have two words that make you think it's inherently untrue," explained Farren.
Chris Farren was involved in the music scene as of 2007. He was a member of punk and indie rock music projects such as Fake Problems and Antarctigo Vespucci with musicians like Benny Horowitz of The Gaslight Anthem and Jeff Rosenstock.
"Although I was involved in many bands, I never felt that I fit in with the "popular cool kids," admitted Farren.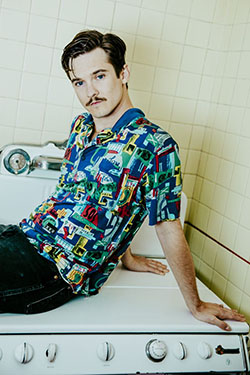 Unlike playing in his previous bands, Farren had to learn how to hone his stage presence as a solo artist. Farren watched old videos of himself playing a set with just a guitar and wished for a change.
"As I was trying to operate in the confines of one person, I shortly began feeling comfortable with backing tracks and video montages. I began toying around with synthesizers to fill up the room with sound and visuals," recalls Farren.
The 33-year-old singer recently took a spot as #22 on the Billboards list for Heatseeker Album.
You can catch Chris Farren's upcoming performance on January 31, 2020, at Elsewhere in Brooklyn, New York by visiting https://www.chrisfarren.com/
IMAGE TAKEN from @chrisfareen
IMAGE TAKEN from Substream Magazine