Strap on your cowboy boots, throw on your ten gallon hat, and ride your horse over to Bruce Springsteen's barn for a full orchestra performance of his latest album Western Stars… in New Jersey.
It's been quite a journey for Springsteen to reach this barn because the past five years have been a wild time at the rodeo. At his older age, he's had a lot of firsts: the Boss wrote his first book, a memoir titled Born to Run, starred and created his long-running play Springsteen on Broadway, and now he's behind the camera and mic for Western Stars.
And for his directorial debut with Thom Zimny, Springsteen seems comfortable on the saddle. It's a well done first movie that serves as both a concert performance and documentary.
It looks like a weird format in the trailer, as the Boss spits deep poetry with moody shots of him in the desert, but the movie is definitely better than what it's portrayed to be. Springsteen performs Western Stars in full with an orchestra, and even throws in a cover of Glen Campbell's 'Rhinestone Cowboy' at the end. In between songs, there are short segments where Springsteen explains his thoughts behind the upcoming tune or reads a poem that matches its message. For the segments, it features shots of Springsteen driving around the dusty Joshua Tree National Park or hanging out with cowboys at the bar.
The movie brings Western Stars to life by providing great visuals (looking past the close shots of Springsteen's wrinkles) and an enhanced orchestral sound.
I've given the album a few listens and enjoyed it, but the orchestra adds another element to the songs. Springsteen's sessions in the barn almost make the studio album sound flat, considering how much more life is put into the tracks. If you still haven't purchased the CD yet, you should pick up the soundtrack to the movie instead because it makes Western Stars shine brighter.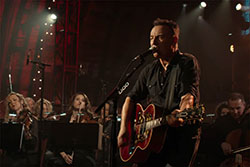 The footage between the songs doesn't fully receive the tip of my cowboy hat. The shots of Springsteen's vision of the west make you want to move out to a ranch in Oklahoma. Yeah, it sounds like horseradish, but Joe DeSalvo's cinematography is gorgeous. The old Dodge pickup truck driving down a dirt road, wild horses roaming through the desert, the sprouting colorful flowers out of prickly cacti, and Springsteen in the heart of it is an unlikely enchanting landscape. As the Boss said in the film, "The west is in all our hearts."
It's quite a difference from Springsteen's usual vision of America. Sure, the Boss shows love to the West in songs like 'Promised Land' where he travels through "Rattlesnake Speedway in the Utah desert," but we're used to his imagery in 'Wrecking Ball' with, "the swamps of Jersey."
While you can make a calendar out of desert shots, the archival footage is a little strange. There's some good footage of Springsteen in intimate moments, like of him on his honeymoon with wife Patti Scialfa, who also contributes to the barn sessions. But there's mostly archival footage of random people. So throughout, you're questioning, "Wait, am I supposed to know who these people are?" It's weird because there must be plenty of Springsteen archival footage to throw in, but instead we get some random folks.
Despite throwing 'Stones' for better old movies, Western Stars is an essential watch for Springsteen diehards. I caught this is at a Dolby Theater and it had incredible sound and picture; the best way to watch it. The Dolby Theater is much pricier, but fans spent thousands for Springsteen on Broadway tickets, that shouldn't stop you.
Throughout Springsteen's career, he's dabbled in country and folk. With Devils and Dust, Nebraska, and The Ghost of Tom Joad, we're used to seeing a country side in our Jersey boy. Sometimes it's hit or miss because he can get a little to mumbly in the singing, but in Western Stars, he's clear and doesn't go too far off the deep end in country. Besides, his barn is still right here in Jersey anyway.
IMAGE TAKEN from Variety
IMAGE TAKEN from alwaysmountaintime.com