At some point in our lives, we had imaginary friends. When times got rough where you couldn't have that happy meal for dinner or weren't allowed to go over Kevin's because your room still needed to be spruced up, your imaginary friend was always there. Yeah, you looked crazy talking to a wall in your room by yourself, but they would always listen.
For Jojo, a 10-year-old boy growing up in Nazi Germany, that imaginary friend is none other than Adolf Hitler, played by Taika Waititi (who also directed the film, Jojo Rabbit). Hm, I don't think I remember him from Foster's Home for Imaginary Friends.
With Hitler by his side, Jojo, played by Roman Griffin Davis, tries to be the best Nazi he can through practice at youth camps and absorbing all the propganda. However, Jojo comes to a crossroads with his nationalism when his mother hides a Jewish girl, Elsa, played by Thomasin McKenzie, in their attic.
In a political climate where politically correct culture takes some of the edge out of films, Jojo Rabbit presents a bold story that beckons back to when comedians like Mel Brooks took chances, with movies like The Producers. Unfortunately, the hopes I had for this to push the envelope were just imaginary.
Despite all of its hype and even blasphemous Oscar talk, Jojo Rabbit fails to produce any laughs. There are efforts by Waititi, but it's much too safe. You'll get the occasional chuckle, like when a group of gestapo officers come to a house for an inspection where they all say "Heil Hitler" individually, but for the most part it's hard to crack a smile.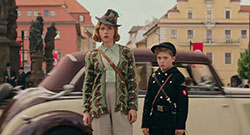 It's a shame because there's a funny cast here with Sam Rockwell, Rebel Wilson, and Scarlett Johanson. Every joke told walks a very narrow line of not offending anyone, which doesn't feel right in a Nazi comedy. Somehow, Waititi makes a squeaky clean comedy, which doesn't feel right for something intended to push boundaries.
On top of the flat humor, the plot is too. Mostly everything pans out the way you'd think, even with a Disney-esque ending (barf). By the end, you can place a little bow on it and walk away, but I wish there were more risks taken.
Like a Disney movie, the characters have a lot of silly lines. For example, when Jojo asks Elsa what she'll do when Germany is liberated, she replies, "I want to dance." Really? That's it? Even when Jojo's mother, played by Johanson, talks to Jojo about growing up, she says, "You go to learn how to dance." Of course, it was a dark and depressing time, but considering Waititi gives the film an upbeat atmosphere, it feels like dancing isn't a problem.
Although Jojo didn't look that funny in the trailers, I hoped it would pan out differently. It had the opportunity to bring people out of their comfort zone, but Waititi chose to keep people snug in theirs.
To no surprise, Hitler didn't make the best imaginary friend. Maybe that's why he wasn't at Foster's Home.
IMAGE TAKEN from Consequence of Sound
IMAGE TAKEN from Regal