Linda Deutsch '65, a Veteran Associated Press (AP) Reporter and Monmouth Alumna, returned to campus to be honored for her achievements and generosity in Jules Plangere, Jr. Center for Communication, at 5 p.m. on Nov. 11.
Deutsch pledged $1 Million to establish an endowed scholarship fund for journalism students at Monmouth.
In recognition of her generosity and career, the university dedicated the office space of the student-run newspaper, The Outlook, as the "Linda Deutsch '65 Student Journalism Center." Deutsch was an editor and reporter for the paper from 1961 to 1965.
University President Patrick Leahy, Ed.D., introduced Deutsch at the naming ceremony held on the second floor of Plangere, in front of The Outlook. "At a naming occasion, you take a space on campus that is so important and you link it forever with a person who is so important to our university."
He continued, "You take a look at The Outlook, published at Monmouth since 1933, and we need to make sure that we have first class space for our budding journalists. When you take that space, you could go through our 53,000 alums and not find a more suitable person to name this space than today's honoree, Linda Deutsch."
Deutsch is one of 18 AP reporters designated 'Special Correspondent' and was nominated for a Pulitzer Prize for her work covering the OJ Simpson Trial. She has covered other high-profile legal proceedings, including the trials of Charles Manson, Robert F. Kennedy's assassin, and Michael Jackson.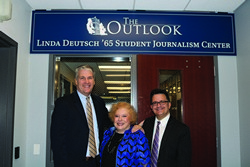 Leahy explained that when Deutsch began at the AP, she was the only female in the newsroom and fought throughout her career for equal rights and pay. "That's the kind of graduate we all hope for here at Monmouth University—change-makers," he said.
"Her generosity is going to allow students for generations to come to continue to come to Monmouth and study journalism and be the next great storytellers in our country."
John Morano, a Professor of Journalism and faculty advisor of The Outlook, said, "We're in a time where we need journalists who are fair and tell the truth just like Linda. Now, her endowment, her scholarship, will allow that tradition to continue," he said.
Aaron Furgason, Ph.D., Chair of the Communication Department and an Associate Professor of Communication, added that the endowment has a very straightforward benefit. It will allow a student to not get several "dead-end jobs" to pay tuition. Instead, focusing on extracurriculars like The Outlook to put together a portfolio, turn that into an internship and maybe a full-time job.
Marina Vujnovic Ph.D., Associate Professor of Communication and Concentration Director of Strategic Public Relations and Social Media Concentration, said, "The actual money that Linda's giving is going to make a huge difference in [students] lives, by providing more opportunities for them. We often get words, but she put actual money behind it– this is concrete help."
"Aside from being great for our students, Linda is leaving an incredible legacy. Her story is amazing and I'm glad the students were here to hear it; it's one that I'm sure will inspire generations of students who are looking into journalism as their career," Vujnovic said.
Deutsch spoke about what the dedication meant to her. "When I started at what was then Monmouth College, I could have never imagined a day like today when my name would be enshrined above the newspaper office at my beloved alma mater," she said.
Morano said, "If Linda's life says anything to Monmouth students, in particular journalism students, it says you can get there from here, because she certainly got there."
Deutsch said, "My work as Features Editor of The Outlook and Editor-in-Chief of the literary publication Monmouth Letters helped me build the foundation of my future career. I hope that my future will include more involvement with the campus than ever before. I am truly honored."
In addition to the new sign, framed pictures of Deutsch and her most influential articles now decorate the wall outside the office to commemorate her legacy at the University.
"I was deeply moved by the letter to me published by The Outlook editors, in which they pledged to continue my legacy in journalism. I trust you to make your own dreams come true and achieve what you stated as your mission—the pursuit of truth and a fully informative society through good journalistic practice. I look forward to watching you achieve your goals," Deutsch said.
Mark D'Aquila, a junior communication student and Sports Editor at The Outlook, said, "I feel very honored to be receiving this scholarship. As a journalism major it's definitely something I want do in the future, and I really appreciate getting recognition from someone who's done so much in the field."
Lauren Salois, a junior communication student and Opinion Editor at The Outlook, said, "I am so honored to be the first recipient of the Linda Deutsch scholarship. It is such an honor to be recognized by someone so esteemed in journalism. She is definitely a role model and someone who I will look up to for my whole career as a journalist."
Following the naming ceremony, Deutsch was one of the four inductees into the 2019 Communication Alumni Academy.
PHOTOS TAKEN by Nicole Riddle