It was a busy week for women's basketball who played three games in the span of five days, featuring a home game against Siena on Wednesday and a road set against Quinnipiac this past weekend.
Wednesday's matchup between the Hawks and Saint Bernard's was quite the battle as a 61-60 final score resulted in Monmouth's first win of the season by the skin of their teeth. Junior guard Jen Louro came up clutch in the end with a game-winning basket with just 2.2 seconds left on the clock. The layup was the difference between a win and a loss for the blue and white as Louro finished with 9 total points along with six assists and a three pointer.
"I'm really happy for our team to close it out and get the W tonight," said head coach Jody Craig. "We stayed together through the rough times and executed on both ends down the stretch. These are big steps for our young group."
Monmouth's success was led by a huge fourth quarter where they scored 16 points including huge shots from the Metro Atlantic Athletic Conference (MAAC) Rookie of the Week, freshman forward Belle Kranbuhl. She led the team in scoring against Siena with 16 points on 8-of-12 shooting from the field. Not only did she score, but Kranbuhl stuffed the stat sheet with her first career double-double after hauling in 12 boards and four blocks.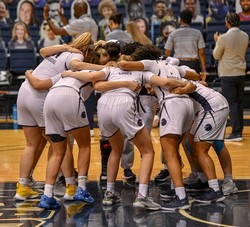 Freshman guard Jania Hall cannot be forgotten either as she came up clutch in the fourth with double-digit points finishing with 13 on the night.
The story of the game was rebounding for Monmouth as they out-rebounded Siena 49-30 on the night and had two players with double-digit boards. Sophomore forward Saule Kaupyte was one of the two as she grabbed a career-high 13 rebounds as well as three assists.
The weekend was a much different story against Quinnipiac who is currently in second place in the conference with a 9-5 record.
Game one on Saturday was a 68-54 victory for the Bobcats who dominated in the fourth quarter from the free throw line nailing nine in the quarter to lead them to the win.
There were some bright spots for the Hawks however, who held the halftime lead thanks to a career day from Hall who scored 14 points on 5-of-10 shooting from the field.
Kranbuhl contributed in a big way as well leading to her Rookie of the Week honors with 10 points and six rebounds.
"We exerted a lot of energy overcoming some foul trouble in the first half, then didn't respond well when QU stepped up their pressure in the second," said Craig. "We have to play a complete game to beat a good team."
They were unable to make that happen however in the back half of the back-to-back against Quinnipiac. Sunday's series finale resulted in a 38-53 loss for the Hawks despite a strong final quarter where they outscored their opponent 13-5.
Kranbuhl dominated in the loss to cap off a phenomenal week of play with her second double-double of the week scoring 10 points, 10 rebounds, and five blocks.
"We were really out of sorts to begin this game," said Craig. "They were quicker to the ball early and we became frazzled. We had way too many wasted offensive possessions. It was good to see us finish on a positive note with something to build on for next week."
There is still plenty of time for the Hawks to go on a run here with eight games left in regular season play. Saint Peter's is next up on the schedule with a two-game set slated for Saturday, Feb. 13 and Sunday, Feb. 14.
PHOTOS COURTESY of Monmouth Athletics