April is Autism Awareness month, which means that for the next few weeks, the sisters of Alpha Xi Delta's Iota Nu chapter will be bringing awareness to the developmental disorder that affects approximately 1 in 45 adults.
Alpha Xi Delta chapters nationwide have partnered with Autism Speaks, which is the largest Autism advocacy organization in the United States. According to the s-rority's official webpage, Alpha Xi Delta chapters have been able to raise over $11 million for the cause, namely through the organization of walks and other "AmaXIing Challenges."
Locally, the Iota Nu chapter of Monmouth University is dedicated to the cause. The sisters of Alpha Xi Delta at the University will be working hard all month to bring aware-ness and raise funds for Autism Speaks.
For many sisters of Alpha Xi Delta, this is a cause that hits home. For Valerie Torrieri, the chapter's Philanthropy Vice President, the cause is especially close to her heart, as her brother has Autism.
She said, "He has inspired me to work so closely in my sorority to raise awareness for the Autistic community. Advocating for those with Autism who cannot advocate for themselves is so important…as a sister of AXID, we educate not only our other sisters but our school and community on Autism awareness."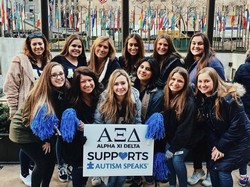 Karin Vega is a sister who also has a strong connection with Autism Spectrum Disorder. As someone with a family member who is affected by the condition, she said, "Ever since I joined, [Alpha Xi Delta] my knowledge on how to increase global understanding and acceptance of people with Autism has grown exponentially. There's something new to learn every day."
Though COVID-19 has affected their ability to support their philanthropy in person, the chapter has stayed commit-ted to the cause.
According to Torrieri, the sisters will be hosting a virtual game of bingo, called, Xingo with the Xi's. She said, "Sisters are selling bingo cards, and that money goes directly to Autism Speaks."
Other virtual activities include virtual 5k runs, and working alongside "Rose Buddies," which happens to be Torrieri's personal favorite. She said that the chapter works closely with a facility in the community of women that have Autism.
"We 'initiate' them into our sorority…Even when working with the Rose Buddies, we were quickly able to switch our usual in-person events to virtual so we could still host them."
Skylar Adams works closely with Torrieri and serves as the chapter's Internal Philanthropy Director. She also is very fond of the Rose Buddies and helped plan a virtual tea party and fashion show for them, which took place on March 9.
She said, "Getting to see everyone dressed up and so happy it just warmed my heart! We got to see everyone dancing and strut their stuff on camera. It was such a moving and memorable experience and I can't wait to do it next year!"
Other Panhellenic chapters on campus will also be showing support towards the cause this month. Margaret Abitanto serves as Chapter President of Alpha Omicron Pi at the University. She said that the sisters of her chapter will help the sisters of Alpha Xi Delta in their fundraising efforts. "We treat other organizations' philanthropy like our own. We are very excited to see what AXID has in store!"
The efforts of Alpha Xi Delta do not go unrecognized by parents of children with Autism. Leigh-Mary Hoffmann is the parent of a nineteen-year-old daughter on the Autism Spectrum. She said, "It warms my heart to see college students working with Autism Speaks both to support research and maybe even more importantly, demonstrate acceptance and inclusion of people with physical and mental disabilities."
For more information on Autism, visit AutismSpeaks.org, and to support Alpha Xi Delta in their observance of Autism Awareness Month, follow them on Instagram, @axid_monmouthu.
IMAGE TAKEN from Autism Speaks
IMAGE TAKEN from Alpha Xi Delta – Iota Nu