Women's lacrosse opened up their 2021 season with a very busy yet strong week of play going 2-1 in a three-game week. Fifth year attack Nicole Ceraso headlined the opening games with 18 total points on 14 shots, seven goals and 11 assists to become the Monmouth program's all-time points leader.
"After everything that's transpired over the course of the last year with COVID and so many uncertainties leading up to this point it felt surreal just to be back out there in our uniforms again playing together against real competition," said Ceraso after her team's first game. "It was a long time coming to get to this point where we can all be together competing again, but we finally made it."
The season opened up at Kessler Stadium on Wednesday, Mar. 10 against Iona where the Hawks wasted no time getting the party started with a 3-0 lead in the first seven minutes. Senior midfielder Rachel Mills scored the first goal of the new season for the blue and white before fellow returning seniors Allison Turturro and Ceraso added their first goals of the year.
These two led the charge for the Hawks per usual with 11 of the team's 14 points in the first half of the game. The game was pretty much over from the start with MU going into the half up 10-2 and extending the lead to a final of 15-3.
"It was a total team effort today, from the administrators that helped get the season going, to our players on the field to our bench, everyone contributed, and it felt really good to be together," said Interim Head Coach Christie Kaestner. "We are really fortunate that we have a ton of experience and a ton of chemistry. They've played a lot of games together; it has been 365 days since our last game and today truly felt like we resumed after a pause and picked up where we left off."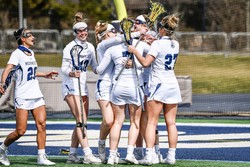 Senior goaltender Stephanie Delliturri had an elite performance for her career with a high of 14 saves in the game which was three more than her previous best of 11 against Lehigh in 2020.
The Hawks followed up their Opening Day blowout with a road letdown at Marist on Friday night.
The tight loss did come with a huge achievement, however, as Ceraso became Monmouth's all-time leader in the game with 252 career points. The senior attack scored three goals in the game with an assist as well to pass Heather Bryant, a former All-American and Hall of Famer at MU.
At one point Monmouth held a 4-2 lead in the first half, but Marist rebounded strong and pulled away in the end with the 15-11 victory.
"Tonight, was just not our night," said Coach Kaestner. "Credit to Marist for playing hard and wanting it. We will take this early season loss as a teaching moment and make sure Monmouth women's lacrosse gets better together moving forward. Our goal remains the same and this loss is a piece of our journey together."
The bright side was that Monmouth had one more game left to close out their weekend on Sunday against Iona at home again. They dominated in this one similar to the first game with a 15-5 offensive outpour against the Gaels. Senior defender Megan Hart broke the second record of the week for Monmouth setting the career draw mark of 232. She already holds the single season record at 101 in 2019.
It was a very balance attack for Monmouth with nine different players scoring in the game including Ceraso and senior attack Caroline Bleck who each recorded a hattrick.
"Today was another great team effort," said Coach Kaestner. "It was so important to have a gritty win today and get back into the win column. We were able to grind out a tough win today and feel good going into the next two weeks with the bye week."
Monmouth's next game will not be until they face Quinnipiac at home on Mar. 26 at 3:00 p.m.
PHOTOS COURTESY of Monmouth Athletics