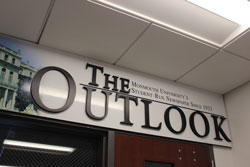 West Long Branch, New Jersey. On Wednesday, January 31, 2018, The Blue Hawk Records' Applied Music Industry II class hosted auditions for their Twelfth Compilation album!
The turnout at Woods Theatre was large, ultimately making the final decision extremely difficult, but by the end of the night, the class was able to choose five artists to feature on their newest album.
The artists, all of various majors and years, include Brianna Scangarello, Wynward, Brad Kraft, Francesca Longiro, and duo Shadiyah Belton and Carlos Flores!
The chosen artists will be recording each of their songs at Lakehouse Recording Studios in Asbury Park, New Jersey and for some, this will be their first experience in the studio.
Brianna Scangarello will be recording her song "Hold on Close." "I was honestly really nervous to audition, but my friends in the band Malibu, who were on the Blue Hawk Records' Volume 11 Compilation Album, were also playing with me, so that definitely helped calm the nerves" said Scangarello.
"It was such a fun experience, and when I got the call that I made it onto the album, I started jumping and screaming from excitement."
"Everyone in Blue Hawk Records is really cool and great to work with and I'm so excited and grateful that I get the opportunity to learn more about the industry, while doing something I love, alongside some really great people," she continued.
In the upcoming weeks, Blue Hawk Records' A&R and management team will be working with each artist in order to prepare them for their recording sessions and upcoming performances.
The class will also be working all semester long with Joe Rapolla, the Chair of the Music and Arts Department at Monmouth University, to prepare for the album release.
The 12th album, After Midnight, is on track to be released on Wednesday, April 18th and a celebratory release show will be held on the same day on the Residential Quad starting at 2:45pm!
To stay up to date with Blue Hawk Records' After Midnight, make sure to follow us on Twitter, Facebook, and Instagram.
For even more updates, text BHR to 882-02 to receive updates straight to your phone!