Monmouth Athletics has taken a voting initiative, along with the rest of the Metro Atlantic Athletic Conference (MAAC), reaching 100 percent voter participation among 20 Monmouth sports teams.
The MAAC's Student Athlete Advisory Committee began this initiative as a way of getting eligible student-athletes and staff to lead the campus charge in voting this election season.
"I am proud of the effort made by our MSAAC representatives and our student-athletes who have made registering to vote a priority," said Vice President and Director of Athletics at Monmouth University Marilyn McNeil, Ph.D. "Their insistence on having a voice in the election process and with the issues our society faces are an encouraging sign for the future of our country. It is our responsibility as educators to provide the necessary resources to help our student-athletes make informed decisions in elections at the national, state and local level."
McNeil has led the initiative in a major way as nearly every Monmouth team has reached full voter participation. These teams include men's sports such as baseball, basketball, cross country, golf, lacrosse, soccer, swimming, tennis, track & field, and football. Meanwhile on the women's side there is basketball, golf, lacrosse, soccer, swimming, tennis, bowling, and field hockey.
Head Coach of the nationally respected and dominant women's soccer team, Krissy Turner, Ph.D. spoke on the important issues facing this country and why it is so important to express your right to vote.
"Being part of the voting process is your right as a citizen," said Coach Turner. "As a team we created a plan to educate ourselves on the current events in our country and Black Lives Matter. One of the initiatives our program took on was that all of us would register to vote. One vote can make a difference and each one of us has a voice that matters."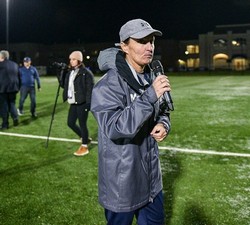 Despite this being a MAAC initiative through their Student-Athlete Advisory Committee, several of the Monmouth teams who are in different conferences still decided to take part in the voting imitative. This includes the women's bowling team who is in the Mid-Eastern Athletic Conference (MEAC), field hockey who is in the America East, and football who is in the Big South.
"I am proud of the fact that the entire football team has registered to vote," said head coach Kevin Callahan. "By registering to vote and then voting, our players are saying that they are here and that their vote matters. They want their voice to be heard."
As one of the leading organizations on campus, the Monmouth football team has certainly stood their ground regarding the voting process and trying to influence the rest of campus to register their right to vote. Both players and coaches from top to bottom on their roster have spoken up and expressed how much all of this means to them personally. This includes star players and team leaders such as senior wide receiver Lonnie Moore and fifth year defensive lineman Kahari Scarlett.
"Growing up I never fully understood the importance of being able to vote," said Moore IV. "Now more than ever there is room for so much change. It's a privilege to be able to have a voice and create change. Monmouth football has not taken this for granted while the full team is registered to have a voice in this year's election."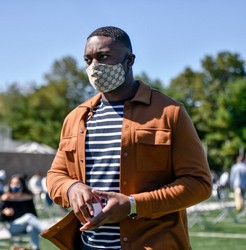 Scarlett added on speaking about the current state of this country and how athletes at every level have the unique opportunity and platform to create social change.
"With the state of our country going through a pandemic, social injustice, voter suppression and a plethora of other issues, it is extremely important that everyone gets out and vote this year," urged Scarlett. "Lebron James and other black athletes created an initiative called 'More than a Vote' whose mission is to combat racist voter suppression by educating people about this major issue people of color have faced. They have been able to help recruit over 40,000 poll workers across the country. Even though our team's outreach may not be that big, we want to let everyone know that we are standing together to help make a change in our country by registering and getting out to vote."
PHOTOS COURTESY of Monmouth Athletics