This week, the Iota Theta chapter of Alpha Omicron Pi will be spreading awareness for their national philanthropy, The Arthritis Foundation.
According to their website, The Arthritis Foundation is the largest nonprofit organization dedicated to the prevention, control and cure of the top disability in the United States. Arthritis leads to swelling and pain of the joints, and symptoms typically worsen with age.
The most common forms of Arthritis are osteoarthritis and rheumatoid arthritis. According to the Center for Disease Control, there are currently 54 million Americans that suffer from arthritis in some form.
Alpha Omicron Pi Fraternity has been partnered with The Arthritis Foundation since 1967, and fundraises annually for causes such as Juvenile Arthritis. In 2019, the organization celebrated 50 years in partnership with the Foundation. That same year, they were able to raise $1,750,000 for the cause. Typically, fundraising is done through chapter wide participation in events such as the Walk to Cure Arthritis and Jingle Bell Run.
This is a cause that hits home for many sisters of the fraternity. Gabrielle Storino currently serves as the Vice President of Philanthropy for the Iota Theta chapter. She said, "Arthritis affects my family directly and is something I'm very passionate about. Knowing that there was a group of women that cared so deeply for a cause that affected my life, and wanted to do something about it by supporting The Arthritis Foundation solidified my love for Alpha Omicron Pi."
This year, plans to hold the chapter's Annual Strike Out Arthritis wiffle ball tournament have been postponed to the fall due to COVID-19, but this will not stop the sisters from supporting the cause that is near and dear to their hearts.
Storino said that while the chapter's ability to support their philanthropy in person has been hindered, they have not been discouraged.
She said, "Although it is different not being in person, we are lucky to live in such an age [where] things can so easily be moved to an online setting…we have been working around the obstacles that COVID has thrown our way."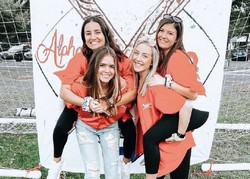 Earlier this week, the sisters were able to raise over $600 for the cause by holding a virtual fundraiser, called "Dare an AOII" via Instagram. The fundraiser allowed donors to choose dares for sisters to complete, which corresponded with the amount of money they donated.
For example, Dianelys Garcia, a sister of the organization, was dared to crack an egg on her head, drink pickle juice, shower with clothes on, and post a TikTok dance to her Instagram story, all because people donated money in her name.
She said, "Although weird, these dares were for the Juvenile Arthritis Foundation, which is a philanthropy super important to me, as some of my closest friends and family struggle with Arthritis."
The fun didn't stop there! On Tuesday night, the chapter hosted a virtual trivia night open to all members of the Monmouth University community. Storino said that this was a way for all to come together and support The Arthritis Foundation.
The event included a brief discussion on the disability, and five rounds of trivia, with each winner receiving a prize.
For more information on the sisters of Alpha Omicron Pi, be sure to follow them on Instagram, @aoii_mu. To learn more about The Arthritis Foundation, check out their website, arthritis.org!
PHOTOS COURTESY of Alpha Omicron Pi – Iota Theta